Texas Tech University's cheerleader Kendall Jones is young, aged 19 years. She is an upcoming TV show host. The social media believes that she is fond of killing wild animals for years.
Around 49000 people have filed online petitions against her. They have appealed that not only she should be banned for cruelty against animals but she should be banned from the social media as well
Jones is on Facebook and Instagram pages where she posted pictures with the dead or injured animals. One photo shows her with the gun she uses while hunting. She has injured or shot dead some animals while not in any personal danger. All this happened in South Africa. She had been accompanying her hunter father from the age of nine.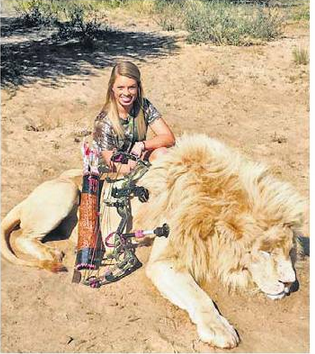 She killed a white Rhino in South Africa ( first Kill) when she was just 13 years old. By 14, she had already killed an elephant, water buffalo, lion and leopard.
People are so angry with her that they have been telling her not to do so anymore. Some have sent her emails full of indecent words. After her criticism and opposition, she says that she was doing so to help those who are protecting the wildlife and the big game.
Animal rights group oppose her for the pictures she has posted. In one of her photos, sitting next to a Rhino, she explains that Rhino was shot and given anesthesia. The action was required for a microchip implant to locate the position and give timely medication to wild specie. Rhino was reported to be falling sick now and then, and a chip implant was the way out to keep track of its movement.
In January 2015, she will host a TV show for the preservation of the wildlife.
https://www.youtube.com/watch?v=dgE1LsaiDD8