1) Largest Waterfall of Yore:
Once upon a time, it was the largest waterfall. Now known as 'Dry waterfall, its width is four times and the length double of the Niagara Falls. 
It is one of the wonders of North America. Its genesis can be traced to the Ice Age floods when they had swept through this region of Grand Coulee. Here, we have the most extraordinary landscapes along the Ice Age Floods National Geologic Trail. Information can be collected through Ice Age Floods Institute website.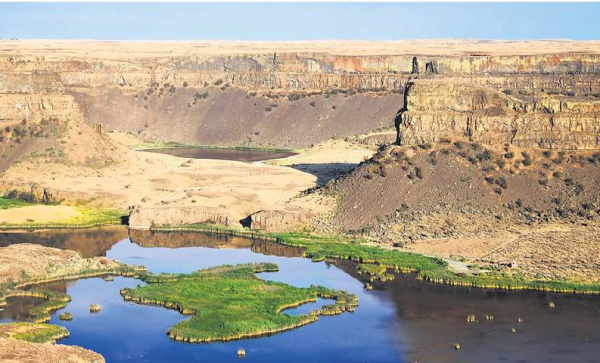 Source : Wikipedia.
Located in central Washington, upper Grand Coulee. The fall had dried long ago and so named. In the ice age, this river had the speed of 65 miles per hour,  fell 400 feet from the mountain. It was equivalent to the flow of ten rivers.
2) China is saving its Youth from addiction to the Internet.
China is the First Country to launch a program to reform the youth's addiction to the internet. Reports from different sources indicate that the habit of youth to internet needs a control on high priority. The Government fully realizes that the younger generation is falling into the bad effects of internet. Recent reports indicate that most on-line users get addicted to the internet in the same way that others become addicted to drugs, alcohol, or gambling,
Their indulgence has resulted in academic failure. It is the emergence of a new clinical disorder. It has named this program as 'Internet Addiction.' It believes that the internet poses a danger to the youth. To check internet and Instagram by youth can be a source of trouble in China today. The youth is being watched on continuous basis.