The highest, at 1300 feet and the largest swing of the world is located in Glenview Springs in Colorado, USA. The swing is visible from afar.
It swings at 80 km/h to an arc of 112 degrees. Four occupants can board at a time and the swinging is timed to fifty seconds for each turn.
The owner of the swing, 41-year-old Steve Buckley says it is usual to feel scared at this height. In the beginning, he admits that he felt that the swing in the adventure park might not be a workable proposition, and it may prove to be in vain., but he got magnificent results and happy to have taken the risk. He had thought of providing a roller coaster but he wanted to give something unique. This is how a magnificent swing came into being. This adventure park also has the facilities of swimming, climbing and exploring caves.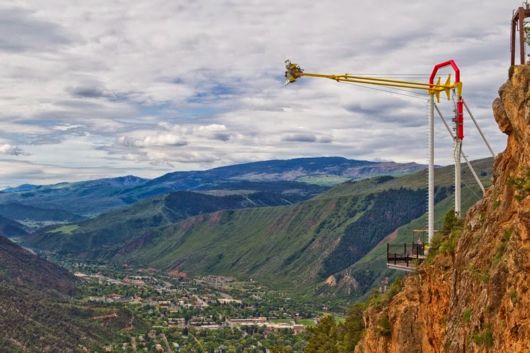 Source: Dainik Bhaskar
The thrill seekers naturally scream with excitement when they are swinging, They take along the memory lane all the fun for times to come.
The trip to this place can be exciting as there are other attraction at close range for visiting caves which are beyond imagination. You will have to crawl to view rare earth formation, you will get dirty but it is fun all the way when pass through 18 inches high entrance to caves.
An alpine coaster is there to make you feel adventurous, and top up there is a trampoline called Bungee safe to make summersaults with a safety harness.
https://www.youtube.com/watch?v=ZQZyCDp_Ozw