1) The Largest Japanese Beach: 
The artificial beaches from Hong kong, Toronto and Berlin have become famous. In Japan Seagaia Beach, Miyasaki is the largest beach of the world, inaugurated in 1993.
It measures 984 'by 328 feet having the largest roof which is removable. Palm ( date) trees, white sand and high waves impress the visitors. Over one million tourist visit this famous resort every year. The Guinness World Records has the reference to this.
Source: WIKIPEDIA.
The entrance fee is variable depending on the season, and the temperature maintained throughout the year: air: 30 degrees and water: 28 degrees. Life guards watch the people for any mishap.
2) World's Most Expensive Bottle Costs $900,000:
Avian water and Bling H20 bottle cost up to $ 62000. But this bottle is far ahead of all other bottles of the world. This bottle AURUM 79 is far exceeding in cost than all other bottles in the world, costs $900,000 from Aurentrum, Switzerland. Very soon it will be exhibited in a Middle-East show.
Reasons why the bottle costs so much: –
1) Is made from the finest crystal and 24-carat gold in Switzerland
2) There are 113 very expensive diamonds fixed.
3) Will have half liter of the very pure spring water with golden edible flakes. Eating them enhance your health.
4) Will have special antique look, coveted by those who love the unusual.
5) Only three pieces limited addition to be readied. Ten percent of the proceeds are to be donated to" Charity Water' to arrange drinking water supply for the needy. This NGO works to arrange pure drinkable water to the poor of the Developed world.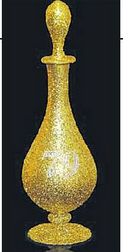 Source; dainik Bhaskar