Here is a story that proves if, resources are pooled together the humans can do wonders in this world.
People 's commitment to greenery and environments has enhanced beatification of Spain. The early years of 1990 decade's drought spell was responsible for this phenomenal change.
That drought directly affected 11.2 million people. Water's scarcity and shortage affected dams, rivers and canals. Worst Conditions prevailed for long five years. But, today the conditions have improved drastically. From 1996 onwards severe rules were enforced for consumption of water. Spain was known to consume maximum per head water in the world, but that condition is over since then.
Ecology and Development Foundation an NGO from the northern city of Zaragoza had brought this change in people's attitude. One city's 15 years of the revolutionary effort, which conducted a massive participation by one and all public, private, institutional and the Government bodies to make a joint effort for the  public awareness campaign'  consumption pattern'  water saving techniques.  This effort has enabled the country to adopt water storage policy and formula to save water from 1997 to 2012. The city's water consumption came down from 150 liters to 90 liters per person.
Victor Vinuals, the  Co-Founder of NGO said their rules to conserve water are easy to understand and implement. The city saved 117 million liters of water against the target to save 100 million liters of water in the very first year. The city of Zaragoza's Hospitals Hair saloon, Fish Vendors and Swimming pools and other major water based outlets were the ones who controlled and reduced the water consumption. After the policy, the municipalities of all Spanish cities are considering a proposal to give discounts on all water saving equipment like water taps, sinks, toilet cisterns and piping.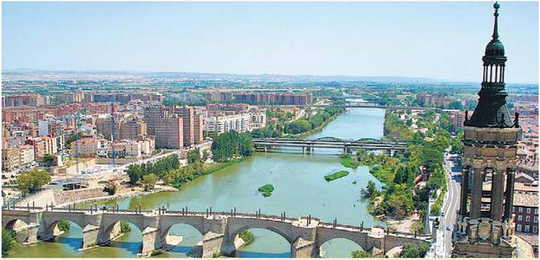 Photograph: Dainik Bhaskar.