World Photo Day, 
Yesterday it was World Photo Day' celebrated for those people who presented photos to the world in a challenging situation. World's first photo that was appreciated all over the world was taken on the 19th August 1839. The photos have different meaning for different people. On completion of 175 years of world photo day, please see below photographs that moved the mankind.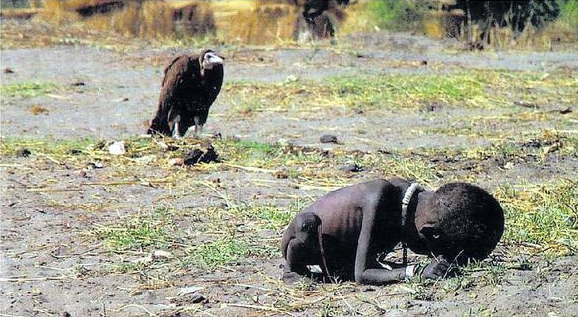 Photo: Dainik Bhaskar
1994:

Horrific Famine in Sudan
This snap by Kevin Carter became a sensation for those who cared for the Sudanese famine. He had taken this photo during the Sudanese famine in 1994. He meant to show a vulture that waited to feed, on a starved child to die. The child was proceeding to the UN camp just a kilometer away. Nobody knows what happened to the kid as photographer Kevin was on the way to another place and just stopped at this place for a 30 minutes break, when he took this shot. Already hundreds of people were dying near the camp and thousands had died all over Sudan where the UN took care of the starving populace. This photo got Kevin Cater the Pulitzer prize.
Photo: Dainik Bhaskar
The Frozen Niagara Falls:
Nobody ever believed the photograph showing the frozen Niagara Falls on the 29th March 1848. They believe it was a fake shot. But when in 1936, the incident got repeated all wanted to remember the photographer, who took the first photograph.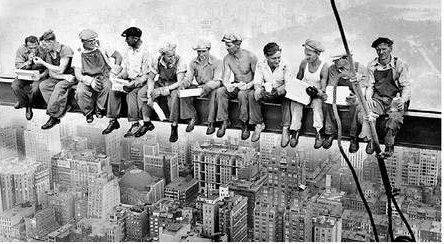 Photo: Dainik Bhaskar
 Lunch above the skyscraper
1932 : Lunch – Afloat on a crossbeam of a Skyscraper
In 1932, RCA Building (renamed the GE Building in 1988) at Rockefeller Centre in New York, they constructed a skyscraper in New York. Charles C. Ebbets  took this picture of the laborers who were having lunch on a crossbeam while it was floating above the 69th floor. They had no safety harness or a safety device on Men were ready take any risk during joblessness in Great depression days.
The laborer were not aware that somebody could have taken a snap. This photo was published in the Herald Tribune's Sunday photo supplement.  A few months were left to complete the GE skyscraper. The photo got famous and liked all over for its excellent quality. The large industrial Houses had published this photo later on.
(Via Wikipedia)