French Monastery is a World Heritage Site.  
The rock off shore near Normandy, Northwestern France since year 600 AD has an interesting history. There is a Christian monastery named Mont Saint-Michel got established because of its location. This small island's fortification because of its strategic position could not be seized in 100 years' war.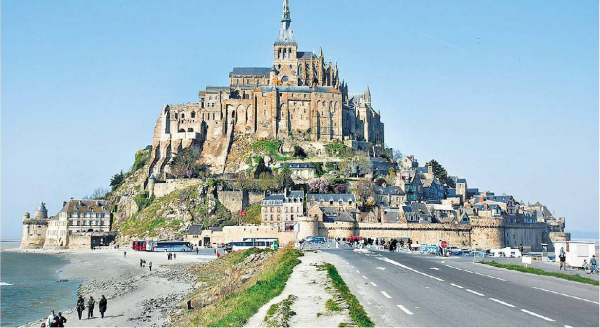 Photograph: Wikipedia
In 1979, it was declared as 'World Heritage Site' because of its construction, natural beauty and location.  Around 3 million, tourists come here every year. There was no way here in earlier times except by using the causeway on the low tide.  A plan followed,  finally allowed a elevated causeway completed in the year 2009,  but as no vehicles could use this, a new bridge was constructed and  will be opened in 2015.
Married friend after 18 years and photo shot on the memorial  bridge
Weng Jiheng living in Hainan province of China liked his childhood friend Jihang Chung so much that he made up his mind to marry her as a life partner. Weng was aged six years then. To realize this dream he had to wait for 18 years.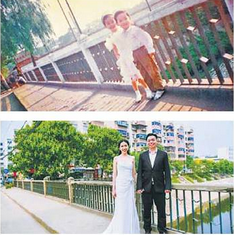 Photo: Dainik Bhaskar.
A few days earlier he told his Mother that he was about to realize his dream. He married her recently. They studied together in a school during their childhood. That is is why the liking had developed. After sometimes they had separated. Weng tried very hard to locate her but failed initially. One day Weng's Father talked to the relatives of Jiang and was able to find her address. Weng located her at the address given.
They were jubilant to meet again after 18 years. They went to the same spot where they used to meet on the bridge at the age of about six years during their younger days. The bridge was a memorial for them.
Both the families are happy today and wonder that he had to wait for 18 years for the girl he had liked during his childhood.