African wedding Tradition Popular  on social media 
In Africa, a custom requires a bride to walk and step over the backs of unmarried girls to reach her husband sitting on the other side of the ground.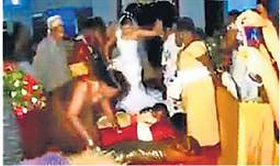 Photo : Dainik Bhaskar
Likewise, it seems the girl has to go through many obstructions to reach their man.
Here you can see the unmarried girls lying on their bellies in a marriage function. For the unmarried girls, it is believed that they will find their man very soon here is the link for the video uploaded
http://oddfuttos.blogspot.in/2014/09/one-of-strangest-marriage-rituals-in-Africa.html#.VBomoy6Swpx
Get your favourite pizza in flat 90 seconds.
Orlando, the largest city of Florida, has a unique restaurant known as " 900 degrees." The mobile restaurant very famous, operated from atop a mobile truck. One may place an order of pizza of any type delivered on a platter within 90 seconds.
The fuel used is natural wood for the oven. The customers are exuberant and satisfied as they see the cooking right in front of their eyes. Liked on Facebook, this shop's customer like it for the freshness and pay repeated visits. Some people like the use of wood as the fuel used whereas A Finnish customer commented that this shop would be declared illegal  back in Finland.
The food trucks are well liked in the USA because the customer feel they are customer friendly and pertinent; that is why their strength has gone up by 197% in the last three years. We find them all the major cities like the New York, San Francisco, Philadelphia and Las Vegas.