Housing is a significant problem for Londoners. Confronting the issue a group of young women called 'Focus E15 Mothers' have taken up the cudgels. They got evicted from their East Thames hostel a month earlier.
Now, they have occupied the vacant houses of official residences, Colonies of houses of Sports Authority and the reserve houses of East London's Council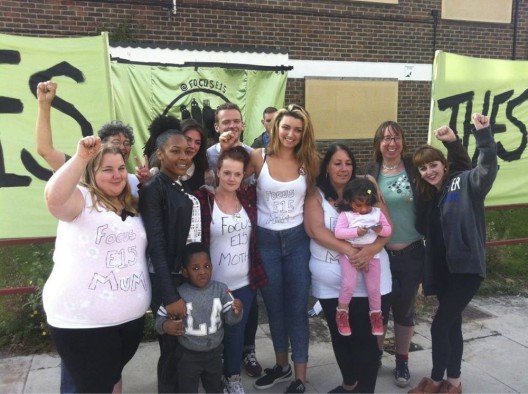 Photo:http://now-here-this.timeout.com/
They have established a ' Social center' for those who do not have a house. The largest center got established at Carpenter Center at Stratford.
Focus E15 Mothers formed a year ago by 29 young married women taking care of the kids. One of them Sam Middleton (20) says that people need houses, and the houses need people. They had talked and consulted responsible people but were not helped by anyone. There are many people who have to spend their nights on the streets. In such a situation, what is the use of houses lying vacant? They will keep the occupied houses until taken care by the concerned officials. The Greater London Council assures that the appropriate and proper action will solve the problem.
Their demands include:
– More social housing to be built and renovated.
– Repopulate the Carpenter Estate
– No to short term contracts
– No to the private sector social housing
– Social housing is not affordable. Affordable housing is 80% of the market value
– Stop sending people out of London.
Here is an old issue and needs discreet handling. The young mothers need housing within London – a fact that has the central role in the whole matter.
https://www.opendemocracy.net/opensecurity/kate-belgrave/focus-e15-young-mothers-struggle-for-universal-housing