1)
On the 28th Sept the crowd gathered at Madison Square Garden, New York, USA. Most of the enthusiasts were wearing the saffron colored Tee Shirt to listen to the visiting Prime Minister of India Narender Modi.

Photograph Via Dainik Bhaskar
2)
It took An American Painter barely five minutes to make the painting of Modi while the famous singer Kavita Krishnamurti sang the devotional hymn " Vaishnav Jan Bhajan". Her husband L. Balasubramaniam played the violin.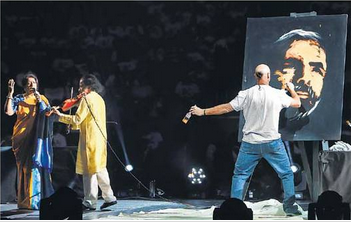 Photograph Via Dainik Bhaskar
3)
Colors of India in Madison Square Garden, New York September 28th, 2014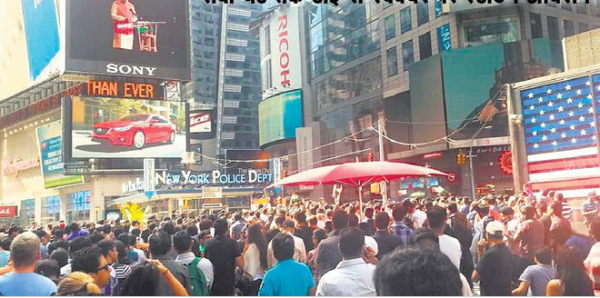 Photograph Via Dainik Bhaskar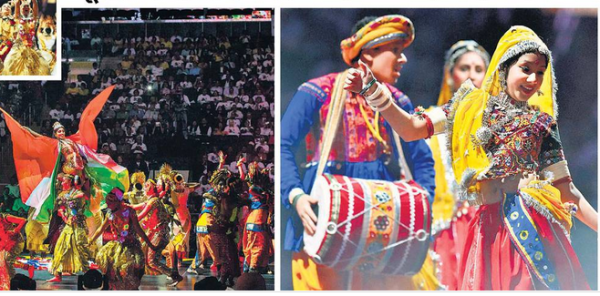 Photograph Via Dainik Bhaskar
4)
When they saw their leader on the screen- the people were overjoyed. All the faces were lit up and were so happy and glowed.
See what happened on sunday the 28th September at Twitter #ModiAtMadison:
There were over sixty thousand Twits and the trend continued.
There were many more humorous Twits like";
– Rahul Gandhi on seeing welcome of Modi clapped and said," I will become Prime Minister when I grow up, Mummy."
– On seeing the charisma of Modi at Madison Square, Obama would do better to merge Democratic party with BJP.
– As per the Indian media Modi's visit to the USA is the 2nd biggest happening for the USA after Neil Armstrong walk on the moon.
– Thanks to Almighty, Modi did not say to over fifty Congressman and Senators that he will uproot the American Congress.
– On seeing Modi's popularity in the US,  Obama has voluntarily offered to resign from the office of the President.
Media's reaction from the India's neighbors:
The Dawn ( Pakistan) : Modi's Tour, India's Great Power game.
– Munir Akram wrote in his column,' India's great power game, " The USA is interested to increase its power base in Asia. India wants to be a Great Power, but the biggest hurdle in India's path is Pakistan."
Global Times, China.
Clever Modi will not become an American Puppet.
Modi is fully tuned to economic agenda. His whole intention is to drive maximum financial and pecuniary benefit from the global big powers without much controversy. He is of a different nature and will never be a puppet in the hands of the USA.