Daewoo Shipbuilding and Marine Engineering of Opko, South Korea is building the world's largest container ship named 'Matz Maersk'. Once, ready the ship will carry 18000 containers at a time. The route would be transoceanic.
Vessel's Principal Specifications: Overall length 1312 feet, breadth 194 feet,  Height 239feet 6 inches and the propellor weighing 70 tons. Twin engines.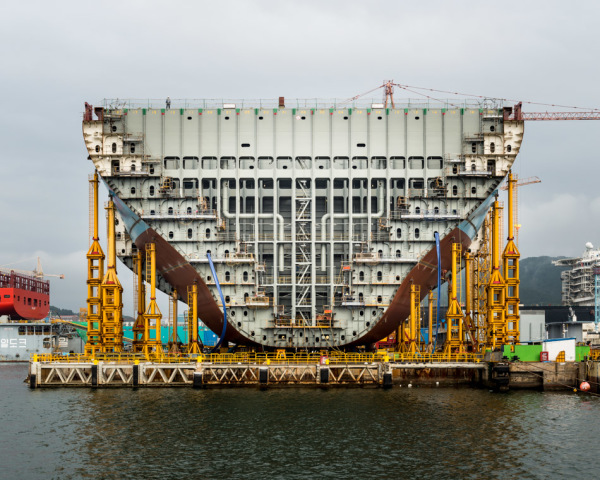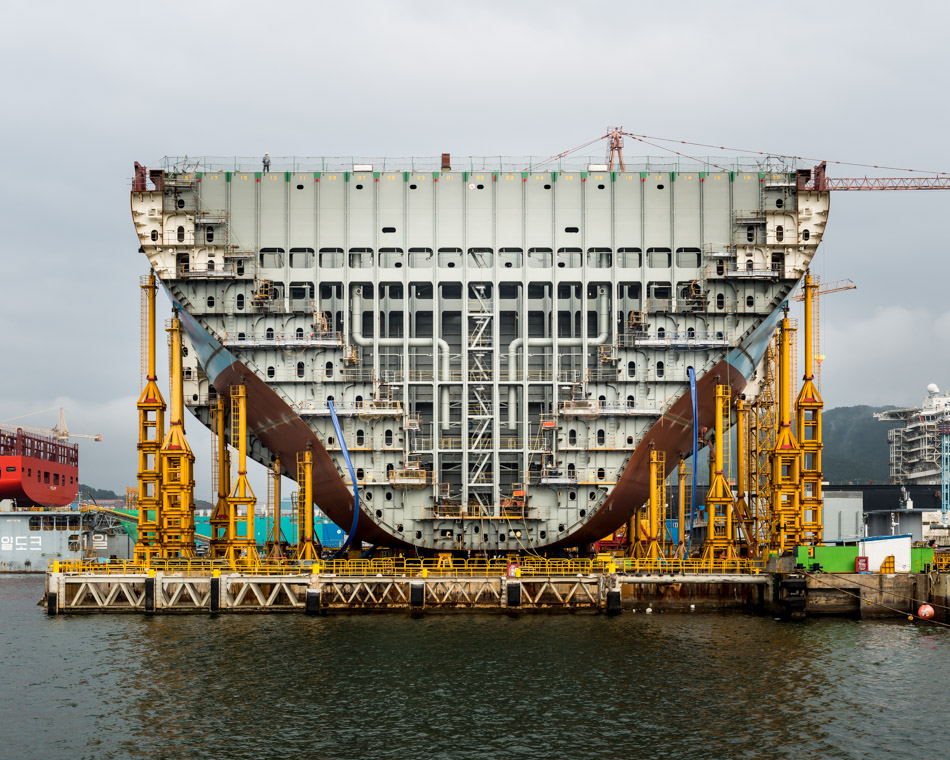 Photo Credit: Dainik Bhaskar
There will be 11 tiers of containers below the decks and ten levels of containers above the decks.
The ship owner is Maersk Lines of Denmark has ordered 20 such Tripple E class to be delivered by 2015. The vessel cannot cross the Panama canal being oversized to do so.
Photo credit :http://alastairphilipwiper.com/blog/building-largest-ship-world-south-korea/
The shipyard employs 46,000 workers busy in building vessels of various sizes including oil rigs. Here, the shipbuilding activity goes on an average for building hundred ships at any time.
It is very interesting to watch different parts prefabricated and movable structure of the ships being built and towed for joining, to complete a single ship. Daewoo is the third-largest shipyard company preceded by Hyundai and Samsung shipyards.
Only fifteen team members crew will be sufficient to run the ship in the transoceanic trips. The vessel has a dining saloon, a pantry, a cinema hall, a swimming pool and lounge for spending the spare time. Gym and indoor games and sufficient video movies and satellite internet are there to keep the those on board well entertained and relaxed.
The crew aboard is divided into six watches both am and pm 8-12,12-4 and 4-8 round the clock. The engine room or the propulsion plant remains locked with an engineer remaining standby for any emergencies in the engine control room. A cook and a steward take care of crew's food and cabin comforts. All in all, it is a pleasure to know the mechanics as to how modern day ships are run and managed right from inception till completion.
Here below is a short video to give you a bird's eye view:  Enjoy your self :-