Bill Gates had introduced thee compact Disc (CD) in this way:
The computers were already on the world scene in 1994 but were not so popular as they are today. That was an era when besides hard drive the data could go on a floppy disc as well. Then, the compact disc got introduced. Bill Gate, the founder of Microsoft, chose a unique way for introducing the CD, he hung himself on top two columns of documents while holding a compact disc in a hand.
His message said the info stored on the CD would be more than the both piles of papers. Imgur uploaded this photo for which some users appreciated the efforts of Bill Gates. They added that in the last twenty years, technology has changed the computer so much that data of 100 CDs can easily be stored in new devices
Photo credit: Dainik Bhaskar.
Debate on Medics having refreshment during consultation in U.K:
Debate on the medical doctors and the other staff having tea or coffee and snacks in front of patients during the consultation is a hot topic in U.K.. They have been banned to have such liberty in reception and public areas at three hospitals: General Hospital, Glenfield hospital, the Leicester Royal Infirmary. The general idea is that having such refreshment means the team is not serious in the job assigned. The complaints to this effect are with the concerned authorities.
Why has this happened only at Leicester and not rest of the world? Elsewhere it is taken to be normal for such a break or some believe that a medic can work more efficiently once relaxed rather than tensed up. It would be better to receive attention from staff who are perked up rather than without a tea break.
It seems entirely well if those affected have already objected to on the internet for such a ban. Let us hope middle of way solution.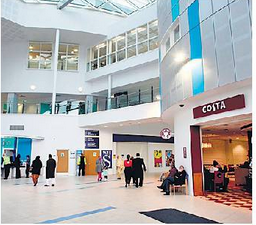 Photo credit: Dainik Bhaskar.