Philadelphia Zoo is celebrating the Halloween ' Beast Feast.' All the captive animals are to be given the pumpkin to play. They are using it to play as a football, or making facial exercising. The Zoo has made a real effort to attract public attention.
The Zoo has specifically tried to bring into focus for many of the wildlife facing extinction.Of these the following were highlighted. Polar bear, Orangutan, Snow leopard, and Gorilla.
Orangutan

:

Here you see a five-year-old Sumatran orangutan that keeps all its presents carefully. They are also natural habitat of Borneo, Malasia. Thier population is dwindling because of man's greed for acquiring farm land for palm oil generation. They can get decimated pretty soon unless some joint action for saving them is taken.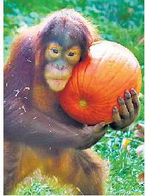 Photo Credit : Dainik Bhaskar
Polar Bear:
Klondike 33 years, Female, polar bear, likes to play with the pumpkin. Climate change is playing hard on them, and World Wild Life Fund for Nature has kept it in the weak conservation list Polar Bear Research Organization has been working and doing an excellent job to save them.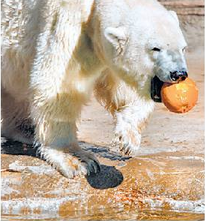 Photo Credit : Dainik Bhaskar
Snow Leopard:
Found in mid-Asia and placed on the list of disappearing species of wild Life Fund. Here in the picture you see a snow leopard called Reni, it is exercising its teeth by munching on the Pumpkin's stalk.
Snow Leopard Trust is collecting funds to conserve the snow leopards in India, Kirgistan, Mongolia and pakistan.
Photo Credit : Dainik Bhaskar
Gorilla:
Named as the Western Lowlands Gorilla of Central Africa, Habitat of Angola, Cameroon, Equatorial Guinea and Gabon. Have been placed on the endangered specie list by the WWF. Hunting, Farming Deforesting and sickness has reduced their numbers substantially.
The Gorilla is fond of eating everything presented.