The United Nation Organization (UNO), New York, building is like a seven star hotel. As the headquarters of UNO, the building got renovated in 2007 since its construction in 1952. Famous architect Michel Anderon got the job of renovation in 2007. It took six years and $ 2052100 to complete the job for the 155 meters high building having 39 stories. Lately, some prominent people made the tour of the building with Anderson. New facts came forth and got noticed. For information the UN has its police, Fire and postal departments and the currency as well.
On entering this prestigious building, you get the feeling that you are entering a place having international borders. There is a cofferdam on the roof of the central section. Instead of renovation, it is remade of its original shape. The dome had carbon deposit due to smoking of cigarettes and cigars. Prior to 2008 people from various countries used it for smoking. Now no more smoking is allowed, and there is a strict a control to keep the building eco friendly and environmentally safe.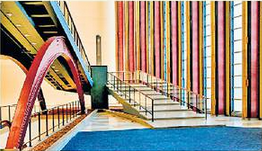 Photo credit  Dainik Bhaskar
This is main entrance, the ramp can be used in addition to the lifts.
-The Council Hall has the latest electronic gadgets fitted, and simultaneous translations of in English, French, Spanish, Russian, Arabic, and Chinese are available.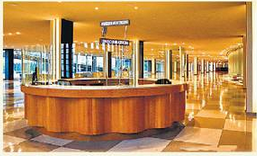 Photo credit: Dainik Bhaskar.
On entering the building one has to register at the reception area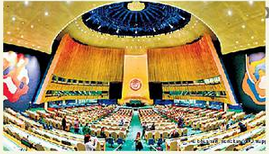 Photo credit: Dainik Bhaskar.
The Security Council Hall from here the world leaders address the UN.
– The glass panels installed are reflective type not permitting heat or cold to pass through only allowing the light to pass through. The fresh air is allowed, and ventilation is easily carried out. Most of the electric lights provided are of LED type.
Photo credit: Dainik Bhaskar.
The permanent members of the Security Council use this hall for its meetings.
– The main entrance and the passage is made attractive with artistic art sculptured marble statues pieces and paintings and the corridor never looks empty.
– The interior decoration is designed that all corners are well covered from the security angle, and any terrorist attack can be countered at any time and within a short period from secretive positions. For this reason, the location of the building is in secluded and away from traffic