Here is video that went viral. The Rebels opposing President Assad issued a copy of the incident to an evening news channel. The event involves saving a girl aged around 6- 8 years old in a shootout. The Shaam News Network uploaded this video to show that Government forces do not spare children and women in shootouts.
We see two kids, a boy and a girl in this video. It is amply clear that in this video when they came in view, the firing continued. The boy is worried and wanted to save a girl in pink dress of about eight years of age. The boy is a hero to accomplice such a brave feat.
1)Boy come to rescue the girl. 2)Took cover when fired 3)Pulling the girl in cover 4) went ahead and saved in shootout.
Photos: Dainik Bhaskar
The boy runs towards the car in the sharp shooting. It appears as if he got shot but later dodged the fire and dives to the ground, takes a cover in the car's shelter holds the girl's hand and run for a cover together. Both got saved. The video uploaded on YouTube on the 10th November has received over 1.2 million. Viewers expressed their anguish through comments: –
– The perpetrator of those who are shooting, do not know what they are doing.
– Civil war in Syria is now over three years old now. No one can guess how long this will last. Millions of women and children are affected. The international community has to take a serious view of the happenings there. Shooting on the children is showing cowardice in essence.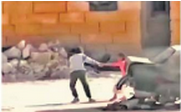 Photos: Dainik Bhaskar
https://www.youtube.com/watch?v=cceu478rN_c