Nuevo Leon state of Mexico tried and got positive results – a marvelous experiment to introduce football and other games to school going children. Just in the last year thousand of children gave up toy guns, in return they got the football, soccer, and basketball kits. The yo-yos, jacks, and spinning tops were also exchanged to promote learning practices.
The troubled state, higher in the crime graph has registered better results through this scheme. The peace is returning in this state.The Undersecretary of Citizen Participation and Prevention of the State Public Security Patricia Salazar Marroquín said that kids have given up the toy guns. The school directors have played a decisive role in this scheme.
A few thousand children in Nuevo León exchanged their toy weapons for other recreational and traditional toys. The motive for children and teenagers to learn and appreciate the power of peace and harmony over snobby behavior. This campaign was carried out in coordination with the Federal government and the San Nicolás municipality
Salazar Marroquín added that the toys exchanged with the youth will help them to recover the value of healthy games as learning tools.
These toys will help social values such as solidarity, peaceful coexistence and group interest mediation.
She explained that the exchange will generate awareness among kids, big and small, about the negative dimension of the symbolism of violent toys the necessity of finding alternatives to resolve conflicts peacefully.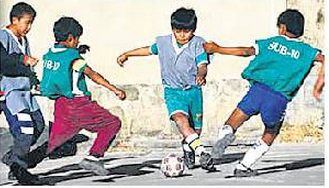 Photo Credit: Dainik Bhaskar
The recreational toys, such as building blocks and geometric objects like Legos, were distributed in exchange for toys such as swords, rifles, heavy weapons and even real knives.
Periodic competitions in both Basketball and football have attracted the youngsters. The efforts were not much, but the cultural results are far more beneficial. They have liked the sporting goods; that would help them in the future. They will benefit bodily, and the country will get good players and citizens in the future.