It is touching a story about the photograph that broke all records of sharing. In short, the snap is of a police officer embracing a black kid, consoling him. The photo went viral when the freelance photographer Johnny Nguyen, 20, uploaded this shot from Portland, Oregan.
It is about the demonstration by the sympathisers of Ferguson outrage. A black young man Michel Brown was shot dead, by police Officer Darren Wilson. The Blacks were angry with the administration all over the US and were protesting.
During this period, a 12-year-old black lad Devonte Hart, was holding a placard saying "Free Hugs." with tears rolling down. There was something that attracted the Sergeant. He talked to his colleague about him before deciding to move over to speak to the youngster. He initiated by talking about life, travel, summer holidays, etc. The conversation broke the ice between them, and Barnum extended his hand and asked for a hug. Hart Got hugged by a Portland police Sgt. Bret Barnum.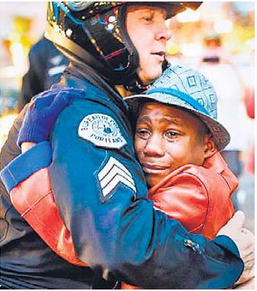 Photo Credit: Dainik Bhaskar
It was a moment the photojournalist who saw something so genuine and demanding attention. He felt that what was needed to bring people together and find something we agree upon rather than disagree.
The photographer never knew that the photo will be a genuine message of love to all. Good for him that it got viewed over a million times in 5 days and shared over 150000 times on Facebook. The internet user named the picture as " Image of Hope".
Devonte Hart's mother Jane Hart later recalled on her Facebook page that the Sergent had enquired her son for the reason of crying. Devonte replied that he was worried that the police officers were mistreating the black kids.
The Sergent asked him to excuse on behalf of all the other members of the Police and that Devonte should not worry anymore. The Sargent hugged him, out of love as a human being and not as a policeman.
Here is a link for the heart touching genuine story.
http://edition.cnn.com/2014/11/29/living/ferguson-protest-hug/