Actress Amanda Holden, name is associated with the largest cake sculpture in Britain's show of talent. She unveiled the massive cake in West Field Shopping Center, Sheperd Bush, London. The cake was not only grand to look at but had a splendid taste as well. This cake had been the joint efforts of a team of 45 volunteers putting effort in over six hours of work.The efforts were planned and put in by the cake bakers, decorators and cake designers from all over the  UK. The ingredients included 8368 eggs, 520 kg of flour, 520 kg of sugar 500 kg of icing.
The development got planned for weeks prior to the execution of this massive effort. This 40 x 33 feet size cake got made by Ditgent company's Fairy and the partner ' Make a Wish UK'. The cake weighed almost two tons as heavy as an average African elephant.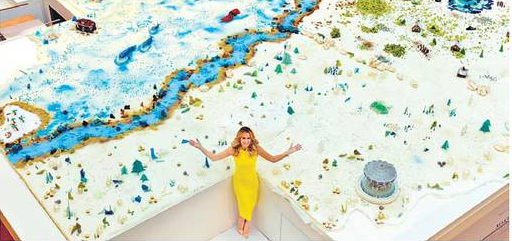 photo credit: Dainik Bhaskar
After the grand opening of the largest cake, the biggest gathering of 12000 customers and the Owner's staff, made a record of eating the cake as well. Guineas organization not only recorded this feat but appreciated their efforts for doing much for the society such a show.
Make a wish's annual program 'Bake a wish' that encourages people to sell the cake for the charity and collect funds. The money raised would be used for children and youth facing life-threatening conditions.
Fairy UK's Assistant brand manager Tim Rothwell said that the Largest Cake project was a part of their program to have the Guineas world record. The team had to work very hard to get this experience.