Top 10 songs of Lata Mangeshkar:
Lata Mangeshkar is from the Madhya Pradesh's city of Indore (born 1929). She is the best female Hindi Film playback singer. Bharat Ratna, the highest civilian award of India bestowed on her. Her songs best known for voice quality. She came on the scene of Indian Films music in the early fifties. If you think of a last seven decades earlier, she was all over in Radio,TV or FM music.  She had also sung songs in Marathi , her mother tongue.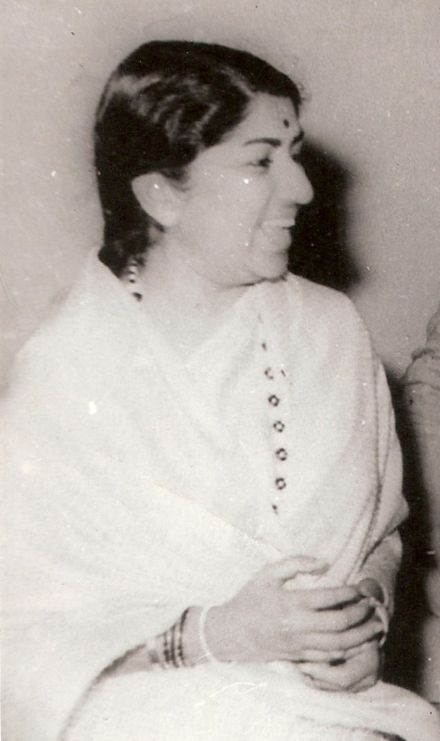 Photo source: Wikipedia                                                                      Lata Mangeshkar as a young woman.
The video songs below are taken for the South Asians because they are poplar. The songs have much of emotional appeal and show the emotions of the actors. The presentation has all most popular songs. Although she got Guineas book of records award but she confronted it saying that she did not as to how they managed her record of songs. The award got withdrawn later on
In the mean time she has launched a perfume labeled on her name.
1. Aaja Sanam Madhur Chandni Mein Hum ….
——————————————————————————————
2. Ghar Aya mera Pardesi, pyas bujhi meri ankien ki ….
3. Vande Matram
——————————————————————————
4. Aah – Raja Ki Aayegi Baraat – Raj Kapoor – Nargis – Pran – Bollywood Classic Songs – Lata Mangeshkar
https://www.youtube.com/watch?v=h2LZu3YfJEo
—————————————————————————————————–
5.Jayen To Jayen Kahan (Revial) – Lata Mangeshkar – Taxi Driver [1954]
https://www.youtube.com/watch?v=BSTKUx_j9MI
———————————————————————————-
6. AYE MALIK TERE BANDE HUM LATA MANGESHKAR FILM DO ANKHEN BARA HAATH MUSIC VASANT DESAI..
https://www.youtube.com/watch?v=1-MrYL8KLMM
——————————————————————————————
7. Guddi – Main To Kab Se Khadi – Lata Mangeshkar
https://www.youtube.com/watch?v=lq0uItK7VpY
—————————————————————————————–
8. Hum Dono – Allah Tero Naam Ishwar Tero Naam – Lata Mangeshkar
https://www.youtube.com/watch?v=GOwlnXGxk_I
———————————————————————————————————–
9. Main Kya karo Ram mujhe Buddha mil Gaya
————————————————————————–
10.Pyar Kiya tou Darna kya
https://www.youtube.com/watch?v=TdOS-0sIW-Y