It was on the night of 07th June 1893 that Gandhi was thrown off the train at Pietermaritzburg Railway Station, South Africa. He had refused to vacate the 1st class white-only compartment. That night while waiting in the darkened retiring room of the station, he prayed to God for guidance. He wanted the answer as what to do next. If to move back to India or stay and suffer. The answer came gently to stay back, struggle and do something non-violently. The next day on protesting, he was allowed to board the train in the desired 1st class coach. He got beaten by the driver of the train when he refused to vacate the place for European passengers. Other problems were in the offing, like being refused by the hotels for the accommodation. A magistrate asked him to remove his turban in the court to which he had refused. These incidents made him even more strong to fight for his rights through non – violent and peaceful means.
Born of Hindu business class family, Gandhi had gone to South Africa after his law degree from the U.K in 1893. There, he got matured in his law practice. While working and keeping in close touch with expatriates, he became their leader, always holding to the idea of getting all the civil rights legally.
The events impelled him, initially and over the years to protest and to adopt for a non-cooperative, non-violent civil disobedience movement in South Africa. He stayed 21 years in South Africa up to 1915. He returned to India to a hero's welcome and started working for the Indian freedom from the rule of Britain. It took him long to win the freedom in 1947. Millions of his country's and world citizens had followed his method of civil disobedience and non-cooperation in their countries.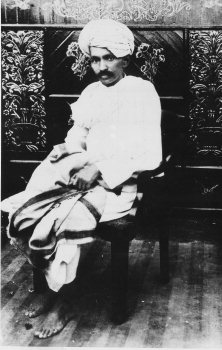 Gandhi in 1918, at the time of the Kheda and Champaran Satyagraha
Photo Credit: Wikipedia
Gandhi had a sizable following worldwide. His non-violent beliefs got him some of his followers. They were very prominent in their achievements: Martin Luther King in the US, followed Gandhi for the Civil rights movement, Nelson Mandela and Steve Biko of South Africa, Khan Abdul Ghaffar Khan of Pakistan, Aung San Suu Ki of Myanmar. Al Gore, the former Vice President, spoke about Gandhi's influence on him. Lanza Del Lanza del Vasto: An Italian but settled in France philosopher, poet, artist and nonviolent activist, was a big follower of Gandhi's way of struggle.