Let the birds also live.
An internet user wrote on the Photo sharing website," when I opened the door the next morning; I was overjoyed to see thousands of crows cawing."
The user uploaded the photo and said that if his wife had seen them live in action, she would have been pleased because she loved birds. Within 13 hours, they were viewed by 2888000 with 2614 comments. Some users said the birds should be allowed to live as humans. These days number of the cities are increasing, the wildlife base, and jungles' areas are shrinking. We need and should care for birds as much as possible.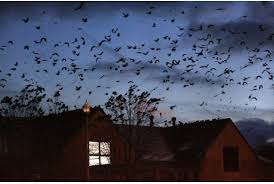 Photo credit: thestar.com
—————————————————————————————————
Everything is Fair for Kids.
American Actor, Comedian, and director Roman Atwood ordered thousands of balls for his children' happiness. Their house became a playhouse. Prior to ordering the balls, Roman learnt from the kids of their desire for the balls. The kids kept jumping over the balls; he started to play with them as children. He did all this when his wife was at office and when she came back, she was overjoyed. They received 21, 561,000 views within in 2 weeks.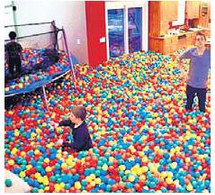 photo credit: Dainik Bhaskar
http://romanatwood.com/pages/about-us
——————————————————————————————————-
Training in Mountain Bike Stunt, Ten storeys below ground level
A course of underground mountain bike commenced in Louisville, Kentucky, USA. The training center spreads over 320000 square feet area. The school trains in Jump lines, pump tracks, Cross country single tracks and has 45 trails in the complex
The Bike Park is part of 100 acres attractive tourist area, which has a business park, an entertainment center, and tourism spots. The park got established by Rolf Rodgers years ago in a remote place and was barren for many years, and now they started the underground Mountain Bike Stunt course. The course will be conducted more that 100 feet below the ground level.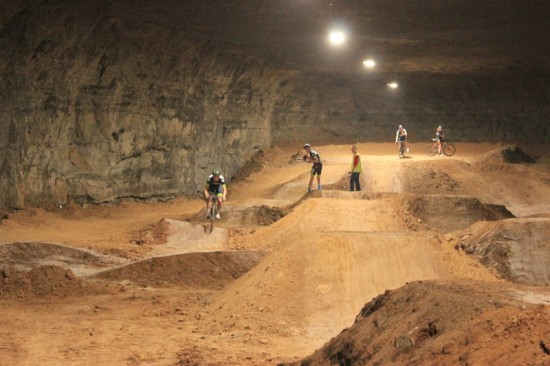 Photo Credit:Mega Cavern
It is first of the Bike Park that is twice the size of the famous Indoor Bike park of Ohio. The Owners of the Business park Derek Fatco says that for cycling this the best place. The practice of Mountain Bike community would get benefitted, and they will earn laurels.
The design of the park is by professional cycling competitor Joy Presel. He has already designed over 20 parks all over the world. Derek says that it looked impossible to execute the project design but for Presel's hard work.