Believe it or not the dogs of a village Khanpur located at Chandigarh to Patiala Road, Punjab, are Multi – millionaires. The entire 800 families of the village worship and take theirs morning and evening meals only after dogs are through the benediction by the temple priest. The village temple covers an area of 80 acres of land. No person, on the property is allowed to partake food without its first benediction for the canines.
It is not a new phenomenon, but the tradition is over 300 years old. The temple's income plus other two of the surrounding community is theirs. The forefather of the present priest had started the tradition about 300 years ago. It is said that when the old priest sat for the meditation the community dogs would accompany him and complete the entire session and get up with the priest. The priest was so happy with the ritual of dogs that he named the land gifted by the ruling chief in their name. Over the years, the surrounding populace started to adore and got devoted to the dogs community. The tradition has continued ever since.
Here is a story that appeared in the prominent daily, The Indian Express on the Aug 18th, 2012. Mahant( priest) Ajay Giri walks out of Shiv Mandir( temple), an ancient, decrepit temple in Khanpur village in Patiala district, Punjab, and cries out, "Woof-woof, woo, woo". Almost on cue, some 40-50 stray dogs, indicating their anxious wait by wagging their tails, rush out to the temple compound. There, Giri serves them a three-course meal — chunks of roti and morsels of sabzi (vegetables) , followed by a bucketful of daal( legumes) , and finally some lassi ( buttermilk) poured into a small pit in the ground. It's only after the canines have had their fill that devotees can have their share of this langar.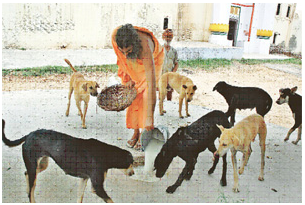 Photo Credit: The Indian Express.
Not that Giri is a dog lover; his ritual of serving canines langar( community food prepared ) twice daily is a legacy of an age-old tradition of Shiv Mandir(temple). Priests here have been offering such feasts for over 300 years, Giri tells us. "When Baba Ala Singh, the ruling chief of Patiala, came to Khanpur village with his army sometime in the 17th century, the then priest, Mahant( priest)  Bhagwan Giri, offered them food. Singh had issued a diktat that the revenue collected by his kingdom from the 12 villages of the area he ruled, including Khanpur, would go to the temple. When Singh and his army were about to leave, a herd of dogs stood in the way, and one of the dogs tore apart the paper on which the diktat was written. The remaining paper, which was intact, now had the names of only three villages. The berserk dog was given opium and ran around the 175 bighas of the surrounding area. It was then that Singh decided, upon a request from the mahant, that revenue from only three villages would go to the temple, and the 175 bighas of land on which the dog ran would be transferred in the name of dogs," he says. Via