Facebook Day:
The 4th of February is a special day for the Facebook's CEO and the Founder Mark Zuckerberg. Twelve years ago he along with friends had started 'The Facebook' as a website. After the launch of  Login page, the Harvard administration had stopped the Face Mesh account for the reason of breaching the security. Zuckerberg didn't give up and commenced writing the notes for the new website in 2004. That is how he had launched 'the Facebook.com. He didn't like 'the' in the title The Facebook. That is why he bought paid  $200000 for the domain 'Facebook.com.'
PHOTO CREDIT: DAINIK BHASKAR
On the September 26th, 2006 he opened Facebook for all. There were over 100000 business pages by the end of 2007. From January 2009, Facebook became the most useful social networking site.
Presidential Election 2016 Scenario in the US:
Ted Cruz after defeating Donald Trump is famous even on the Net: 
The popularity of Ted Cruz has soared up ahead of Donald Trump in the caucus held. For all the statements awareness they generate, the Iowa caucuses do not ever provide a definitive pattern to who the final candidate will be, particularly in the case of the Republicans, where the last two winners – Rick Santorum in 2012 and Mike Huckabee four years previously – failed to win the nomination.
Ted Cruz's following has risen leaving behind Donald Trump in the Republic Party caucus. In many ways, caucus meetings, held in Iowa and a handful of other states, are the same as primaries – but the processes are different. Voters gather locally at a specified time at caucus meeting sites around the state, and can attempt to sway their neighbours before the votes counting. Cruz's reputation has gone up. The result of the caucus does not necessarily mean that the winning candidate would be lucky at the party convention in July.
Here is a photoshopped picture is an example of his popularity with a 'handsome family'  tag with Imgur user J Porter – 313 uploading it. Within the hour, this pic got over 100000views and 2040 trending point.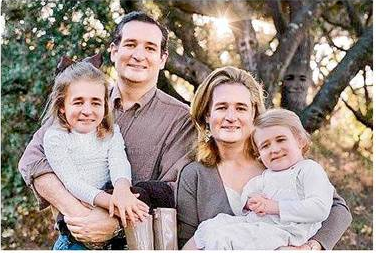 Photo Credit: Dainik Bhaskar
Recently, Ted Cruz 45 is a junior senator from Texas his wife Heidi Cruz and daughters Catherine and Caroline were discussed much in the US media with correspondents for and against his style of working. He has given statements about his future policies if elected as the Commander-in-Chief of the USA. He announced that he would follow three principle as a policy. First, to get US steady in the international affairs, second, to defend his supporters and protect the US interests, third, to face all the challenges and do what is in the best interest of the US and that will also be in the interest of the world as well.