You won't understand whether it is a tree or a peacock:
Many times a lot of fantastic scenes are seen in nature so much so that we can not take off their sight from them. An Indian Photographer clicked the photo of a peacock resting on a dried tree as given below. It seems that a tree branch leaves are there to see and enjoy but from the another angle it is recognised it is a peacock.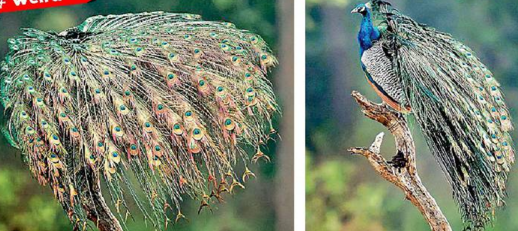 Photo Credit: Dainik Bhaskar
Different Angle's Surprize:
. The photo shoots clicked are from a Tiger reserve Bandhavgarh
. The photographer took a while before understanding that it was a Peacock.
. There are many peacocks in the Tiger Reserve, but it is unusual to see such s photo.
Dance Move in Buddhism: Interesting:
Johnny Tang's photograph are liked the world over. Johnny started a project in Buddhism with his pictures. He edits his photos in such a way that many hands and feet are visible.He named his project as 'BBoy Monster series.
His photography is of Par excellent standard.
Photo Credit: Dainik Bhaskar
He commenced these series To make the photographs attractive.
He says in Buddhism more hands is a sign of more power
Is it a cake or a raindrop: 
You would be surprised and wonder whether it is a pie or a rain drop? It is being debated on the Instagram. It seems as if it is a water drop. The credit goes to the Japanese Chef Darren Wong and people in Japan like it. It is believed the folks in NewYork would taste it pretty soon. The texture is liked over the taste.
Photo Credit: Dainik Bhaskar
Its taste is much different:
It is prepared by the mixture of gelatine and the mineral water.
It is served along with chocolate syrup and roasted soybean flour.
Its texture is like jelly.