She got presented on her wedding with a $ 1000 check gift from her mother in a saving account. Mother had a motto to make her life full of blessings and a secured but happy future. She told her to deposit some amount in future whenever she (they) had something to celebrate and record the same like getting pregnant, or moving to a new apartment or any happy occasion. In short to write a note giving the reason for the celebration. To always deposit a small amount with a record for your life however together with the husband. The amount deposited should be proportional to the size of celebration. In the closing note, the mother said to share the record with her husband. She assured her that in a future date this record will turn out to be source of happiness of the shared joy in life for both of you.
They were happy to start and record the reason for their celebration for all the future dealings. As the idea appealed them for the saving
the deposit record went something like:
June 6th Honeymoon trip to Mountaineering resort  $ 100
13th Nov Her Birthday $ 600
Dec 6th Husband's birthday $ 600
Mar 24th – Raise in salary  $ 300
June 6th Pregnant $ 1000
6th Aug Wedding Anniversary $ 2000
Moved to a new apartment $ 200 and so on 
with each occasion, they explicitly mentioned the time duration the celebration lasted.
As the years progressed the differences between them grew. They started to have arguments and skirmishes. They talked less and eventually decided to call it a day and headed for the separation. 
They felt sad and repented to have married the wrong person. Love seemed to be miles away. At times she felt that his way of thinking had to change drastically before they could make their marriage work properly.  He felt that her thinking had to be elevated to the modern way and was probably not possible.
So a day came she gathered enough courage to tell her mom that they wanted to go for the divorce. It was beyond her thinking as to why she agreed to marry this guy.
The mother gave the go ahead signal and said to remember the deposit account she had opened for her. She told to spend the money accumulated there and not to keep any memories for their alliance. Poor marriages should not get continued, and all associated stuff needs to get disposed.
She went up to the bank to cancel the account and looked at the record for the total amount. And the strange thing happened, she looked and kept looking at the record to see the joyful moments they had. Tears came down rolling down with eyes full with the drops and found herself sobbing.
Quietly she left the line and headed home. There she passed the bank passbook to her husband asking that he spend all the money before the divorce proceedings.
The next day he went to the bank but the same phenomenon occurred. Standing in the line, memories rolling down for the joyful times they had. His eyes were surprisingly full of tears. He walked back,  and gave the passbook to her and said that he could not do it. There were another $ 5000 in the next line in the record with a note. It said,"Today I realize that how much I loved you. For the happy, times we spent together and meant so much to each other. Your expression of love touched my being and brought so much of joy."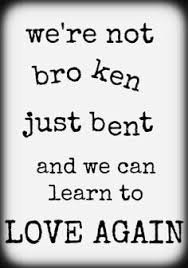 Photo source: pinterest.com
They hugged and sobbed together for a real time. The bank passbook was secured safely with the resolve not to break up.
Marriage is not a play.  It is tough but always enjoyable. It is natural to argue and quarrel as both came from different background, belief and morals and different parents, raised differently. It becomes tough to understand each other totally without giving importance to own view first.
It is proper and prudent to think before turning away, to times you went through and what ever brought two of you together.