For all men out there, read this article carefully as you may be in serious trouble with your own health, and don't even know it. Don't be alarmed, but understand that many of us are a little out of touch with the healthcare system. Some avoid routine check-ups and delay the medical attention that may be forthcoming.
Regular health exams and tests can help find problems before they start. They also can help find problems early, when your chances for treatment and cure are better. By getting the right health services, screenings, and treatments, you are taking steps that help your chances for living a longer, healthier life. Your age, health and family history, lifestyle choices (i.e. what you eat, how active you are, whether you smoke), and other important factors impact what and how often you need healthcare.
Stress testing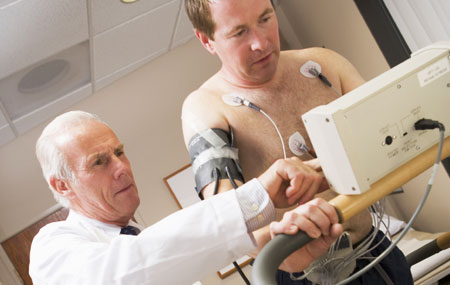 Stress test is a test used in medicine and cardiology to measure the heart's ability to respond to external stress in a controlled clinical environment. The stress response is induced by exercise or drug stimulation. Stress tests compare the coronary circulation while the patient is at rest with the same patient's circulation observed during maximum physical exertion, showing any abnormal blood flow to the heart's muscle tissue (the myocardium).
The results can be interpreted as a reflection on the general physical condition of the test patient. This test can be used to diagnose ischemic heart disease, and for patient prognosis after a heart attack. The stress test is done with heart stimulation, either by exercise on a treadmill, pedalling a stationary exercise bicycle ergo meter or with intravenous pharmacological stimulation, with the patient connected to an electrocardiogram (or ECG). People who cannot use their legs may exercise with a bicycle-like crank that they turn with their arms.
Skin cancer testing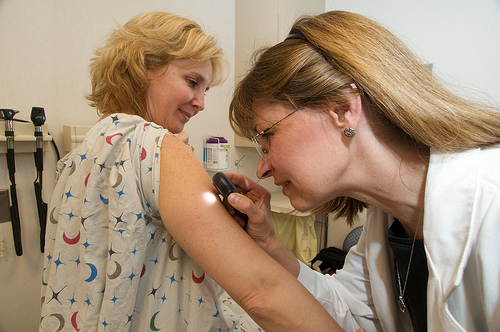 Skin neoplasms (also known as "skin cancer") are skin growths with differing causes and varying degrees of malignancy. The three most common malignant skin cancers are basal cell cancer, squamous cell cancer, and melanoma, each of which is named after the type of skin cell from which it arises.
Skin cancer generally develops in the epidermis (the outermost layer of skin), so atumor can usually be seen. There are a variety of different skin cancer symptoms. These include changes in the skin that do not heal, ulcering in the skin, discolored skin, and changes in existing moles, such as jagged edges to the mole and enlargement of the mole. You can check it by skin examination by dermatologist. Asymmetry in the size of mole or colour change are the signs of skin cancer.
Prostate-specific antigen screening
Prostate-specific antigen (PSA) also known as gamma-seminoprotein or kallikrein-3 (KLK3) is a glycoprotein that in humans is encoded by the KLK3 gene. KLK3 is a member of the kallikrein-related peptidase family secreted by the epithelial cells of the prostate gland. PSA is produced for the ejaculate where it liquefies the semen in the seminal coagulum and allows sperm to swim freely.
It is also believed to be instrumental in dissolving the cervical mucus, allowing the entry of sperm. In the United States, the U.S. Food and Drug Administration (FDA) has approved the PSA test for annual screening of prostate cancer in men of age 50 and older. The patient needs to be informed of the risks and benefits of PSA testing prior to performing the test. PSA levels between 4 and 10 ng/mL (nanograms per milliliter) are considered to be suspicious and consideration should be given to confirming the abnormal PSA with a repeat test. If indicated, prostate biopsy is performed to obtain tissue sample for histopathological analysis.
Pap smear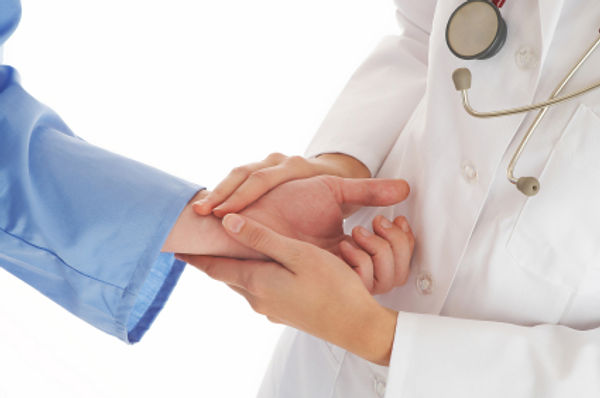 The Papanicolaou test (also called Pap smear, Pap test, cervical smear, or smear test) is a screening test used to detect potentially pre-cancerous and cancerous processes in the endocervical canal (transformation zone) of the female reproductive system.
Changes can be treated, thus preventing cervical cancer. The test was invented by and named after the prominent Greekdoctor Georgios Papanikolaou. In taking a Pap smear, a speculum is used to open the vaginal canal and allow the collection of cells from the outer opening of thecervix of the uterus and the endocervix. The cells are examined under a microscope to look for abnormalities.
The test aims to detect potentially pre-cancerous changes (called cervical intraepithelial neoplasia (CIN) or cervical dysplasia), which are usually caused by sexually transmitted human papillomaviruses. The test remains an effective, widely used method for early detection of pre-cancer and cervical cancer. The test may also detect infections and abnormalities in the endocervix and endometrium.
Lipid profile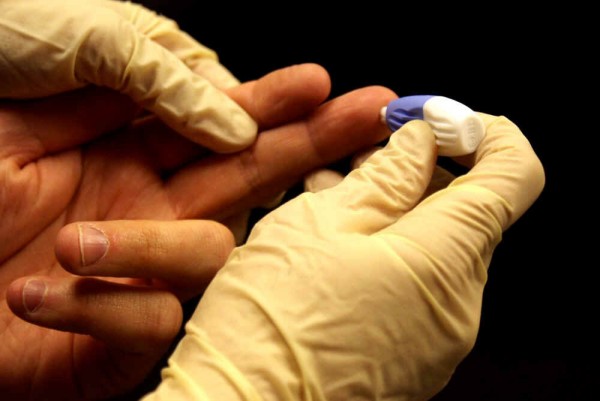 Lipid profile or lipid panel, is the collective term given to the estimation of, typically, total cholesterol, high-density lipoprotein cholesterol, low-density lipoprotein cholesterol, and triglycerides. An extended lipid profile may include very low-density lipoprotein. This is used to identify hyperlipidemia (various disturbances of cholesterol and triglyceride levels), many forms of which are recognized risk factors for cardiovascular disease and sometimes pancreatitis.
It is recommended that healthy adults with no other risk factors for heart disease be tested with a fasting lipid profile once every five years. Individuals may also be screened using only a cholesterol test and not a full lipid profile. However, if the cholesterol test result is high, there may be the need to have follow-up testing with a lipid profile. If there are other risk factors or the individual has had a high cholesterol level in the past, regular testing is needed and the individual should have a full lipid profile.
Diabetes risk tests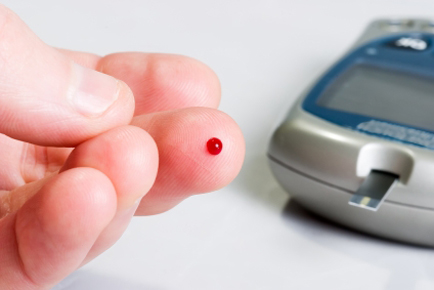 A glucose tolerance test is a medical test in which glucose is given and blood samples taken afterward to determine how quickly it is cleared from the blood. The test is usually used to test for diabetes, insulin resistance, and sometimes reactive hypoglycemia and acromegaly, or rarer disorders of carbohydrate metabolism. In the most commonly performed version of the test, an oral glucose tolerance test (OGTT), a standard dose of glucose is ingested by mouth and blood levels are checked two hours later.
Many variations of the GTT have been devised over the years for various purposes, with different standard doses of glucose, different routes of administration, different intervals and durations of sampling, and various substances measured in addition to blood glucose.
CYP450 test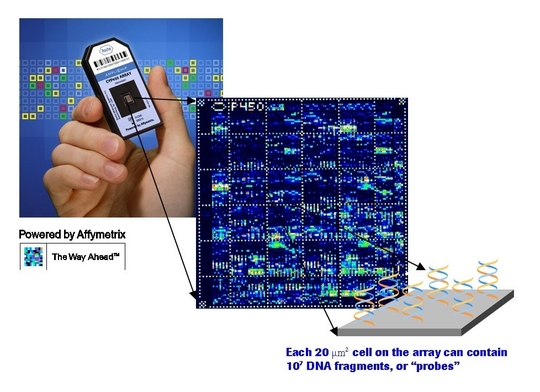 CYP450 Test is a clinical test from Roche. The test aims to find the specific gene types (a genotype) of the patient that will determine how he or she metabolizes certain medicines, therefore guides the doctors to prescribe medicine for best effectiveness and least side effects. The AmpliChip CYP450 Test uses micro array technology from Affymetrix (GeneChip) to determine the genotype of the patient in terms of two cytochrome P450 enzymes: 2D6 and 2C19.
The test analyzes the DNA of a patient to determine the genotype, and prediction of the phenotype can then be made. The DNA sample comes from blood (as Roche suggests) or, alternatively, comes from a mouth brush called buccal swab. The analysis has five steps after DNA is extracted from patient samples:
1. PCR amplication of the gene.
2. Fragmentation and labeling of the PCR product
3. Hybridization and staining on the AmpliChip DNA microarray.
4. Scanning the chip.
5. Data analysis.
Colonoscopy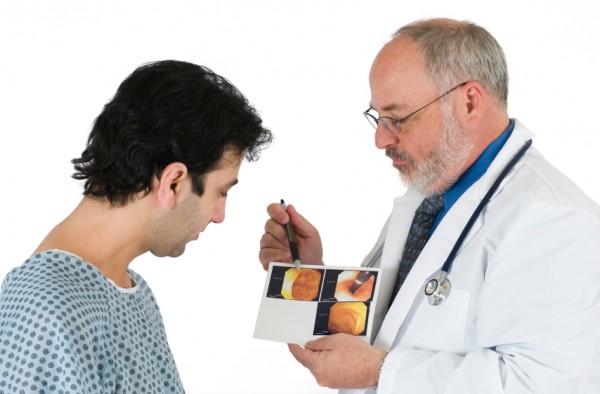 Colonoscopy is the endoscopic examination of the large bowel and the distal part of the small bowel with a CCD camera or a fiber optic camera on a flexible tube passed through the anus. It may provide a visual diagnosis (e.g. ulceration, polyps) and grants the opportunity for biopsy or removal of suspected lesions. Colonoscopy can remove polyps as small as one millimeter or less.
Once polyps are removed, they can be studied with the aid of a microscope to determine if they are precancerous or not. Colonoscopy is similar to, but not the same as, sigmoidoscopy—the difference being related to which parts of the colon each can examine. A colonoscopy allows an examination of the entire colon (measuring four to five feet in length). A sigmoidoscopy allows an examination of the distal portion (final two feet) of the colon, which may be sufficient because benefits to colonoscopy (cancer survival) have been limited to the distal portion of the colon.
C-reactive protein test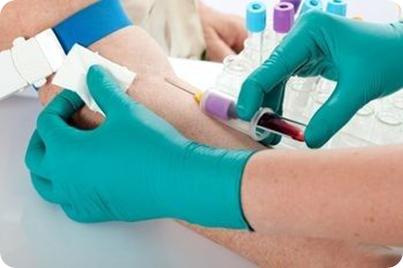 C-reactive protein (CRP) is a protein found in the blood, the levels of which rise in response to inflammation (i.e. C-reactive protein is an acute-phase protein). Its physiological role is to bind to phosphocholine expressed on the surface of dead or dying cells (and some types of bacteria) in order to activate the complement system via the C1Q complex. CRP is synthesized by the liver in response to factors released by fat cells (adipocytes).
It is a member of thepentraxin family of proteins. It is not related to C-peptide or protein C. C-reactive protein was the first pattern recognition receptor (PRR) to be identified. Arterial damage results from white blood cell invasion and inflammation within the wall. CRP is a general marker for inflammation and infection, so it can be used as a very rough proxy for heart disease risk.
Since many things can cause elevated CRP, this is not a very specific prognostic indicator. Nevertheless, a level above 2.4 mg/L has been associated with a doubled risk of a coronary event compared to levels below 1 mg/L; however, the study group in this case consisted of patients who had been diagnosed with unstable angina pectoris; whether elevated CRP has any predictive value of acute coronary events in the general population of all age ranges remains unclear.
Blood pressure test: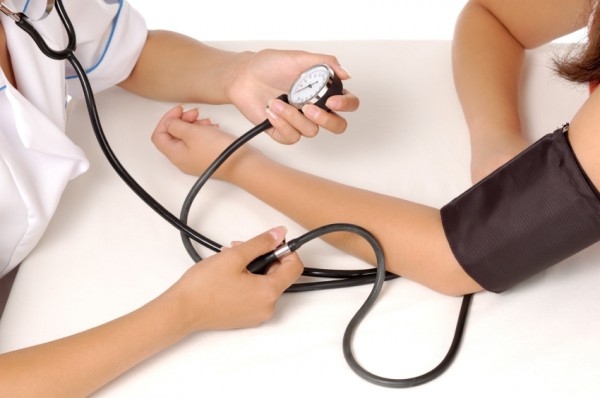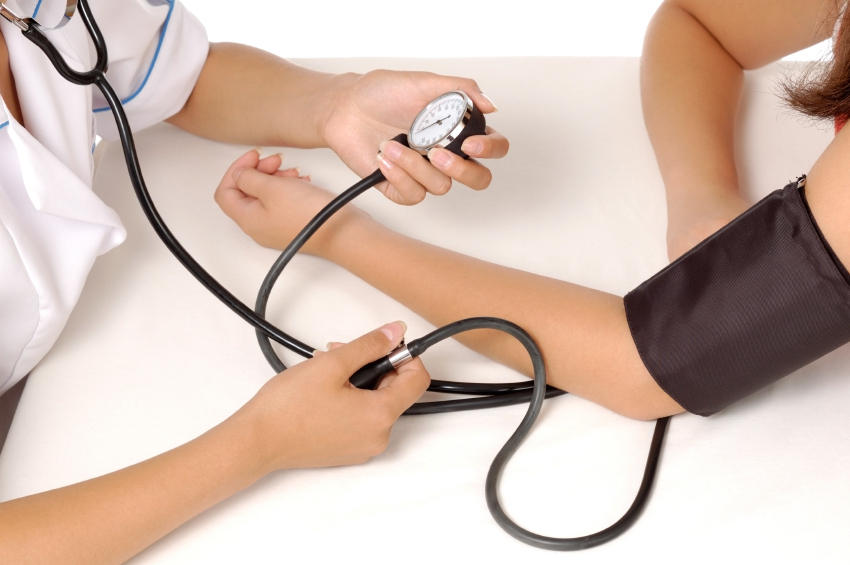 Blood pressure (BP) is the pressure exerted by circulating blood upon the walls of blood vessels, and is one of the principal vital signs. When used without further specification, "blood pressure" usually refers to the arterial pressure of the systemic circulation. During each heartbeat, blood pressure varies between a maximum (systolic) and a minimum (diastolic) pressure.
The blood pressure in the circulation is principally due to the pumping action of the heart. Arterial pressure is most commonly measured via a sphygmomanometer, which historically used the height of a column of mercury to reflect the circulating pressure. Blood pressure values are generally reported in millimeters of mercury (mmHg), though aneroid and electronic devices do not use mercury.