It is a modern community also known as the 'cliff village' located a height of 1400 meters lonely mountain. The village is 200 years old and busy in farming chilies.  It was a sorry state of affairs as parents did not some kids to school because of the danger involved.
The students shown in the picture here, are those who go to the safe school nowadays. As per the village history, about eight humans lost their lives in the previous trips involved.
The school going children of this community are popular in the world's media. It is because of the 800 meters mountain located on route to the primary school. It used to be a dangerous trip that they had to undertake once in a fortnight. The village is located high on a cliff from the kids go to the school. The community adults had to take turns to accompany and caring for the safety of the children.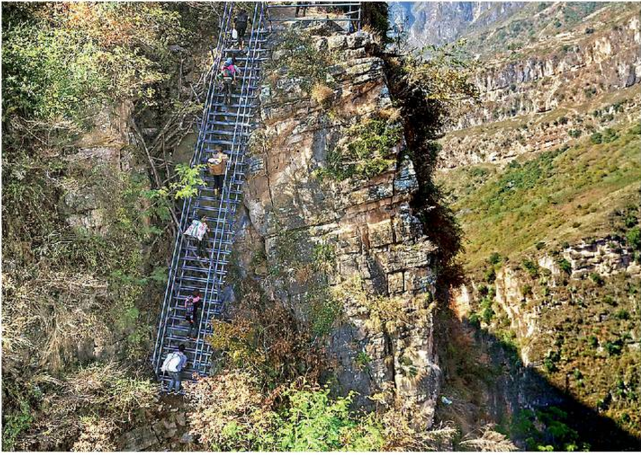 Photo: Dainik Bhaskar.Isolated village of Atule'er at Zhaojue County in Liangshan Yi Autonomous Prefecture, Sichuan Province:
The enthusiastic kids carrying their school bags had to descend and climb the treacherous and dangerous vertical height to reach the school. Earlier the children had to drop and climb up using the trunk of the tree. It used to take an hour to descend and climb in 1 1/2 hours to reach the school. The kids had to stay in the school for a week because of this hazardous and dangerous passage for them.  It was not possible on a daily basis. On their way to school had to take breaks before continuing their journey.
The villagers cared for the kids by providing a wrought iron stairs. The kids can now cover the passage within twenty minutes safely and they no longer stay there for their nights. They can return as and when wished.  The scary days are over when they had to journey along with three adults.