A survey has found that a majority of Americans are living with constant stress. According to the poll, 48% of respondents found themselves lying awake at night due to stress. Meanwhile, 77% are already experiencing physical symptoms as they try to cope with the demands of work and home responsibilities. According to the American Institute of Stress, the top causes of stress in the U.S. include job pressure, money, health, and relationship problems, and while it's important to deal with these issues, having time for self-care is also imperative for one's overall well-being. 
To maintain your health, you need to find a way to manage stress, and one way to it is to do yoga on a regular basis. Yoga has many health benefits for the mind and body, and the beauty of it is that you can do it anywhere. You don't even have to go to the yoga studio to practice yoga—by creating a peaceful and tranquil spot in your abode, you can look forward to doing yoga to de-stress after a hard day at work. Here's how you can create a yoga sanctuary at home.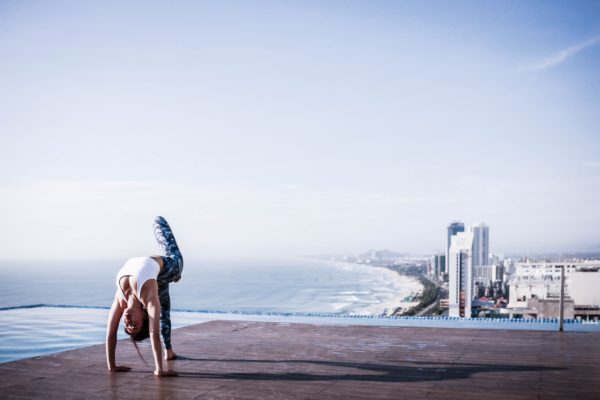 Choose an area that's free of distractions
Setting up a yoga space in the living room or near the kitchen may not work as these are high-traffic areas and contain lots of distractions. If you don't have an extra room, any space that's relatively quiet will work. If you like being outdoors, then the garden or your backyard may be the best place to set up your yoga sanctuary. If you choose to have your yoga space outside, you can enhance the soothing experience by installing a wall garden water fountain. The sound of running water can be incredibly relaxing and can help you stay focused as you go into different yoga poses.
Check your flooring
Your flooring can make or break your yoga sanctuary. You need a surface that's flat and stable for balancing postures, so setting up on a rocky, slippery, or uneven surface is not the way to go when you're aiming for safety. An area or a deck with wooden floors is ideal as it's natural and warm underfoot. Choose a yoga mat with the right thickness for added support and comfort. A standard one-eighth inch mat is ideal for anything from Hatha to Vinyasa-style yoga.
Add a few extras
The right accessories can make your at-home yoga sessions feel more special. You can add a few candles and a diffuser for essential oils to relieve stress. Bamboo elements, a Buddha statue, crystals, and rocks can give your space an authentic feel. Consider having a portable speaker to play some relaxing tunes while you do yoga poses.
This year, consider creating a haven of calm in your home for your health. Follow these tips to create a yoga sanctuary at home to have a special place where you can look after yourself and your well-being.