Since the time it had originated, and then with the significant jump in popularity in recent years, Yoga has been a frequent choice for many people who simply want to stay healthy and in good shape. As a practice consisting of series of controlled movements, concentrating especially on improving coordination and developing a strong core, it could be a perfect foundation for a number of effective workout strategies. That also includes those used by professional athletes.
Of course, it isn't some golden formula or universal remedy for all the problems. Perhaps, there could be other training methods and therapeutic solutions for specific goals we'd like to achieve: muscle-building exercises will get you ripped, intensive cardio will burn more calories, etc. Therefore, the answer to the question of whether to take up Yoga or not should lie mainly in the hands of interested parties and depend on the individual case. Its most important objective, however, is the strong core and everything that goes with it – posture, breathing, movement alignment, muscle control, flexibility, synchronization of mind and body. What kind of personal trainer or a coach wouldn't want to start shaping new talents with a strong focus on suchlike areas?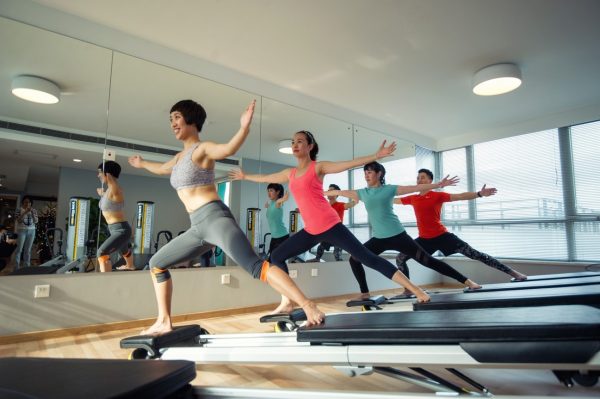 In the light of all that, it can make a lot of sense to implement Yoga propositions into training regimes. While it may not be a common trend just yet, some teams and athletes are warming up to the idea. One of its basic concepts, Reformer Yoga, is designed towards gaining control over the body by challenging its different parts in various ways. The pushing, holding and pulling improve the work of limbs and specific parts of muscles in relation to the rest of the body. This helps sportsmen obtain more information about their abilities and limits, which can then be pushed and controlled better. From that control, comes the great power. Working on the core and stabilizing it will result in the concentration of power. More precisely, the extra stability will help generate more power from unusual positions that might have previously seemed weak or unstable.
Professional sports, especially full body contact disciplines or somewhat dangerous activities, generate injuries. If it is by clashing with an actual opponent, as a result of random events, coming out of fatigue or improper conduct, those things will always happen. But limiting the risk of such occurrences should be the way to go for everyone. While you cannot really protect yourself from the unexpected, the most commonly made mistakes have to be taken out of the equation. Incorrect posture and unnatural body positions are the sources of many issues, as they tighten or stretch muscles, leaving them prone to contusion. Yoga can be really effective in strengthening the vulnerable parts and adjusting them to more neutral positions. In the longer run, special exercising schemes can be drawn up to make muscles work more efficiently and comfortably through a wider range of motions.
It's true that Yoga will help athletes with their workout and keep their muscles ready to take some pain. It is also good for sore muscles, inactive for a while or kept in an uncomfortable position for a longer time. In the world when we can do almost anything from behind the computer screen, this could be a real issue. In modern, fast-growing sports disciplines as well. If it's hours spent at the poker tables, sitting on NZ online pokies sites or long e-sports training sessions – people need psychical activity. Yoga can be an answer, at least to some of the problems. When your muscles adjust to the exercising routine, and above all when they 'know' their proper place, the soreness will ease.