A majority of the Indian population faces the woes of hard water in their daily lives. Without the presence of water softeners, hard water leads to skin problems, stained sinks, unclean floor tiles and more. Due to the presence of excess calcium and magnesium salts, water tends to become hard and unfit for drinking or cleaning anything. Switching to the best hard water softener offered by Kent will help your family get soft water, which ultimately helps you increase the durability of your clothes and keep your house clean.
Now that we are aware of the power of water softeners, here is a list of Kent's best hard water softeners, which will help you get rid of the underlying problems that you might face on a daily basis with the hard water supply in your home.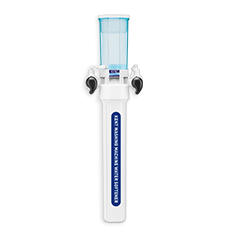 Kent Washing Machine Water Softener
Everyone loves to wear clean clothes to their office, college or school on a daily basis. After installing a washing machine at home, you may find that the clothes have lost their sheen and softness. You must have used all types of washing powders, but unfortunately, nothing might have worked. The machine may break down often or work erratically. If you are facing these issues, it's not a problem with the washing machine but rather a hard water problem. To get rid of this, you need a good water softener for washing machine. You can opt for Kent Washing Machine Water Softener which is designed exclusively for using with washing machine.
This washing machine water softener successfully converts hard water into soft water. As the result, you need less detergent to create more lather and clean the clothes. This product uses a little amount of detergent and water to clean your clothes on a daily basis. The lifespan of the clothes also increases with the presence of softeners. The ion exchange technique of conversion of hard water to soft water is very simple and this appliance is also easy to operate.
Kent Autosoft 11039
Hard water causes many problems in your day to day lives. Some of these hard water problems are:
Stains on floor tiles, kitchen tiles and bathroom tiles
Deposits on sinks, showers and water tubes
Tough stains on your clothes
Frequent plumbing problems
Deposits on your utensils
Skin irritation and itchiness
These problems will be easily taken care of once you install the best water softener from Kent. The water softeners come with the latest technology and are fully automatic. The appliance needs no manual intervention and hard water automatically goes into the regenerative process, which in turn helps in conversion of hard water into soft water.
Water softeners help you enhance the quality of the water, which you get on a daily basis. Installing this will eventually help you save up on your budget and increase the lifespan of the appliances that are directly affected by hard water. Once you have successfully installed the right water softener, you can bid goodbye to all your hard water woes.