Preparation Time:- 15 mins
Cooking Time:- 0 mins
Serves:- 6
Apple Carrot Salad is like a fruity spin for the people who are conscious of there fitness but still cant resist loving food, this is a delicious slaw and very easy to make. You just have to buy the season's best apples and, a bag of thickly shredded carrots.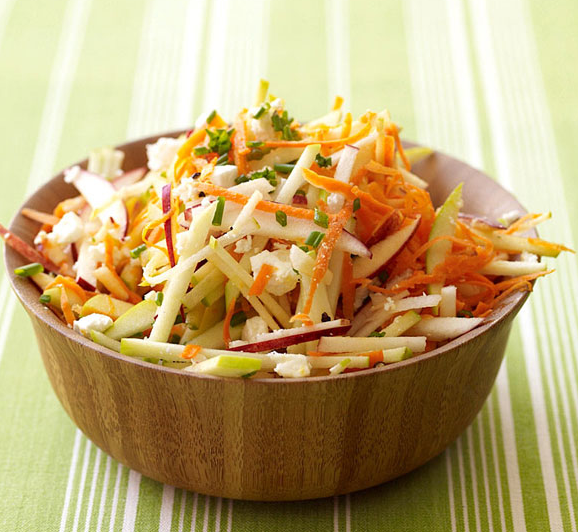 Ingredients
2 large fresh apples :- 1 red and 1 green, thinly sliced, cored, cut into matchsticks
1 1/2 Tbsp fresh lemon juice, or less, according to your taste
3 cups uncooked carrots, cut into matchsticks
1/4 cup of chives, chopped
1 Tbsp olive oil
1 tsp sugar
1/2 tsp table salt
1/4 tsp black pepper or more, according to your taste
2 oz feta cheese, French-variety suggested, crumbled
Instructions
Firstly place the apples in a large bowl and mix it with lemon juice. Now add all the other ingredients like carrots, chives, oil, sugar, salt, pepper and cheese; toss to mix thoroughly. It yields about 1 cup per serving.
Extra Notes
If you want more tang, use blue cheese instead of French feta, it will give it a few extra points.