Preparation Time:- 15 mins
Cooking Time:- 40 mins
Serves:- 4
Chicken Thighs with spicy tomato sauce is a tasty, wonderful dish for the people who like spices in their chicken. This meaty little chicken thighs make a good, inexpensive midweek meal. Its a lovable dish and all the ingredients are easily available.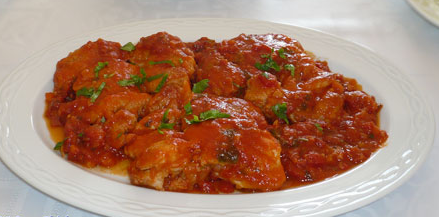 Ingredients
8 chicken thighs
15 grm butter
15 ml (1 tbsp) vegetable oil
1 medium onion, skinned and chopped
1 garlic clove, skinned and crushed
5 ml (1 tsp) ground cumin
5 ml (1 tsp) ground coriander
A large pinch of chilli powder
397 g (14 oz) can tomatoes
15 ml (1 tbsp) tomato puree
salt and pepper according to taste
30 ml (2 tbsp) chopped fresh parsley
Instructions
1. Firstly heat the butter and oil together in a large frying pan, now add the chopped onion and crushed garlic, cover the lid and cook for 4 – 5 minutes, until the onion is softened. Now add the cumin, coriander and chilli powder and cook for 1 minute and stir continuously.
2. Just push the onions to one side of the pan, and add chicken to it. Now just let it be till its brown from both sides. Now add tomatoes and tomato puree. Stir in the tomatoes and the tomato puree and season to taste.
3. Until its boiled stir continuously. Now cover and simmer gently for about 30 minutes or until the chicken is tender. Stir in the parsley and serve hot with boiled rice.
Note
You can also use chicken breast, its basically for people who love it.