Preparation Time:- 10 mins
Cooking Time:- 1 hour
Serves:- 6
Amount Per Serving
Calories: 372
Total Fat: 11.5g
Cholesterol: 0mg
This sweet, creamy concoction is made up of pistachio pudding, pineapple and whipped dessert topping, dotted with miniature marshmallows, cherries and sprinkles with coconut. Cool and creamy, great for summer and holidays. Kids love to eat this.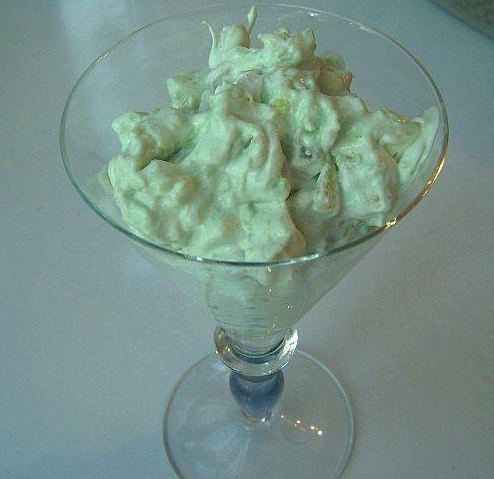 Ingredients
1 (3.4 ounce) package instant pistachio pudding mix
1 (20 ounce) can crushed pineapple, drained
1 1/2 cups miniature marshmallows
1 (12 ounce) container frozen whipped topping, thawed
1/2 cup flaked coconut
1/2 cup maraschino cherries, drained
Instructions
Take a large bowl, now combine pudding mix and pineapple; mix it well. Add marshmallows and 3/4 of the container of dessert topping, add more to get a creamier consistency. Toss it with the coconut and mix it well. Transfer the dish to a serving dish and top with halved cherries and any extra coconut. Chill for at least an hour before serving.
Note
You can also substitute the maraschino cherries with a small can of mandarin oranges, (minus the juice) sliced in half. It's very light and tasty. You can have them decorated by the top with cherries and coconut to look like a face