Preparation Time:- 15 minutes
Cooking Time:- 25 minutes
Serves:- 4
Amount Per Serving
Calories: 275
Total Fat: 10 g (2 g saturated)
It is a delicious chicken thighs dish to try with roasted. Its a great dish for chicken thighs lovers. A must try and also takes less time to cook.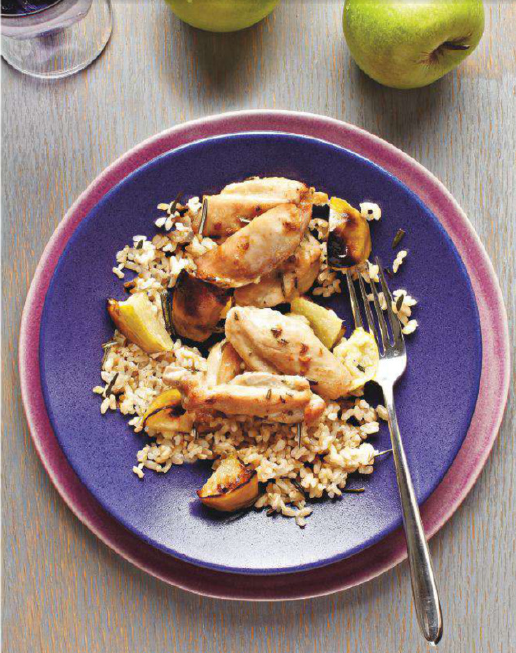 Ingredients
1/2 pound tart apples (about 1 large or 2 small)
1 pound boneless, skinless chicken thighs, cut into 1- inch stripes
2 tablespoons white wine
2 tablespoons olive oil
1 1/2 teaspoons finely chopped fresh rosemary
2 garlic cloves, minced
1/2 teaspoon kosher salt
1/2 teaspoon freshly ground black pepper
2 cups cooked brown rice
Instructions
1. Preheat the oven to 400°F. Core apples and cut into 1- inch cubes. Now in large baking pan add apples, chicken, wine, oil, rosemary, garlic, salt, and pepper. Toss to coat. Roast for 20 to 25 minutes or until apples are softened.
2. Now for the plating divide the rice evenly into four plates and topped it with equal amount of chicken and apples. Now pour the pan juices over top and serve.