Preparation Time:- 20 minutes
Cooking Time:- 50 minutes
Serves:- 8
Amount Per Serving
Calories: 215
Total Fat: 11 g (5 g saturated)
It is a delicious apple dish with cherry. Recipe is quite simple which is worth a try.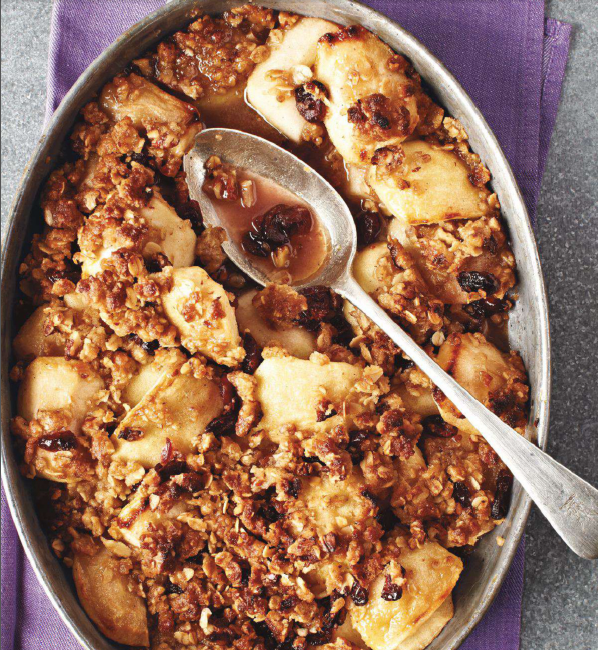 Ingredients
Cooking spray
2 pounds baking apples
2 tablespoons maple syrup
1/3 cup dried cherries
2 teaspoons fresh lemon juice
1/4 teaspoon ground nutmeg
5 tablespoons unsalted butter
1/4 cup rolled oats
1/4 cup finely chopped pecans
3 tablespoons all- purpose flour
3 tablespoons light brown sugar pinch kosher salt
Low fat Greek yogurt (optional)
Instructions
1. Firstly preheat oven to 375°F. Lightly coat an 8- inch square baking pan with cooking spray.
2. Quarter, peel and core apples, if the apples are still big then cut the quarters in half again. Now add it to a large bowl and add maple syrup, dried cherries, lemon juice, and nutmeg. Now melt 2 tablespoons butter and toss into apple mixture. Stir it until its coated.
3. Now in a separate bowl, mix oats, pecans, flour, sugar, and salt. Now cut the remaining 3 tablespoons butter into small pieces and add it to the oat mixture. Now blend it with your fingers until the large crumbs are formed.
4. Now you just need to pour the apples into the prepared baking pan and topped it with the layer of the crumble mixture. Bake the mixture for 45 to 50 minutes or until the apples are very tender and the topping is golden brown. Now transfer the pan to a wire rack to cool for 15 to 20 minutes. Serve it warm.
Note
You can also serve it with a dollop of low fat Greek yogurt if you desire.