1. The harmful invisible virus /insects  are decimated by the sound produced by the instrument Trumpet-Conch  (Shankha)  – as per the renowned scientist J C Bose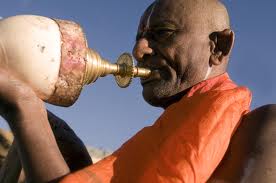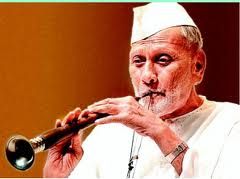 Bismillah Khan
2. Longevity, fame, and prosperity: If you ever watch the players of mouth wind instruments. They usually never have to use reading glasses ( specks). Along with this benefits no heart related problems occur from medical angle is well known. In Northeast India teams of shankha blowers, are attached to temples and one may see them as healthy beings without any specks or heart problem. Similarly snake charmers may be located randomly all over in India and are always without specks. They are living example for one and all to see with no heart related problems either. The famed Bharat Ratana awardee ( Highest Civilian award) Bismillah Khan never used specks or had a heart problem.  He died on reaching 93 years and never used specks. Similarly celebrated and famous Flutist Pandit Hari Prasad Chorasia may also be quoted.
 Wind bands from the western world may be checked for medical benefits for one and all. This clearly proves that longevity, fame, and prosperity are very much the gift of Wind blowing musical instruments. Stammering children can be corrected of their speech by regularly blowing the shankha. It has been proved that regular daily  blower of the instrument  never get heart or breath related  disease or problems in their lives. Also diseases like Asthma, comes, pleha, yakrat, can be eliminated by regularly practicing the shankha blowing. A powder made from the shell material is used in Indian
Ayurvedic
medicine, primarily as a cure for stomach ailments and for increasing beauty and strength. Secondly  stomach ailments: Since ages the powder is used for stomach ailment  
3. Use as beauty aid:  shankha 

bhasma

 or Powder (conch ash) 
 may be readied wetting the shell in lime juice and reducing to ash ( powder) by prolonged heating under controlled conditions in covered crucibles Shankha bhasma. The ash contains calcium, iron and magnesium and is said to possess antacid and digestive properties.