There is no cure for Snoring or Sleep Apnea in modern medicine science of allopathic system. Snoring and Sleep Apnea cause major problem in the humans' sleep. During sleep the muscles around the airways get relaxed thus gradually shutting the intake of oxygen. As a result worst health problems can occur. Generally it is not possible for the patient to remember the disorder during wakeful hours as the problem periods are for a few moments, but during long sleep hours Sleep Apnea can prove to be fatal.The patient may have the feeling of lethargy after getting several hours of sleep.
In Yoga system we can cure the problem of snoring practising the Ujjayi pranayama and kapalbhati as follows:
1) To start, breath out through the nostrils emptying your lungs fully.
2) Tighten your throat and take in slow breath making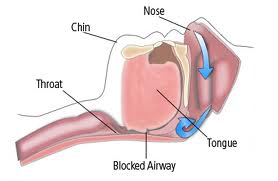 noise. Take this long guttural breath and fill up the lungs.
3) Hold your breath for sometime ( as long as you can easily do) while at the same time bend the head at the neck and keep your breath stopped. Your chin will touch the throat gently.
4) Straighten your neck and slowly breath out through the left nostril pressing the the right nostril.
This is one cycle.Repeat this Ujjayi pranayama 3 or 5 or 7 or 11 cycles.
Some person have acute problem of snoring that others in the family can not sleep. The problem if acute can be fatal as explained above. By practicing Ujjayi and Kapalbhati all the snoring problems will be over in due course of time. There is no immediate cure. Other throat infections and disease like thyroid also get cured.
Generally this problem is associated with fat people who have cough problem. Another associated pranayam to be practised is kapalbhati which is to practised for 5 minutes, followed by Anulom – Vilom also 5 minutes
Tricuta churna half spoon in the morning & evening along with honey in hot water will helpful for a fast cure.
Please open the following link to see the demonstration by reverend Pujie Swami Ramdev