Kautalia Sharma, popularly called Kautalia Pandit was born in 2007  (aged 5 years 8 months) in a village called Kharhar in Jhajjar district of Haryana, India. Nearly all the news channels in northern India show him on special hosted programs. He has perfect knowledge of world's Geographical locations, per capita income, GDP of any country, politics, economy, and answers questions on various topics with utmost ease. He usually answers even before completion of a question. Like: capital of Mongolia. Countries around it. Its population. Where is Gobi desert or Lesotho or Nicaragua.?  Capital of any state in any country? He is young but ever ready to answer any question. Kids of his age are still learning to read and write. His has a typical fully shaved head depicted like historical Kautalia. His IQ is said to be  +130 points which is way above all the children of his age. You may see his recordings on: www.youtube.com/watch?v=U5jEQKr9ZaQ
Whole of his knowledge was gained through tutoring of his Grand Father, Parents and School teachers. All he does is after going through a chapter, he is thorough in it for ever. While recollecting to answer any question, he looks around or into eyes of others and blurts out the correct answer. Psychology experts from Kurkshetra University are baffled and want to learn of the process involved in his learning. They all have a team working on this.
He has been invited to be the participant in the most popular TV program of KBC hosted by Amitabh Bachhan on channel "Colors" on the Children's" day (14th November) this year. He said to be the most extraordinary kid who is studying an an ordinary school of a small village. When you look at him, he seems so normal, a kid from the neighborhood who rejoices in playing with kids around. Even his spoken language is that of kid who can barely manage to speak but conveys him self accurately to others. He eats like any ordinary kid – nothing special or any hi-fi diet. He plays around with his age group kids and still posses the sharpest mind ever known for kids of his age. He is a marvelous super kid to watch for in times to come.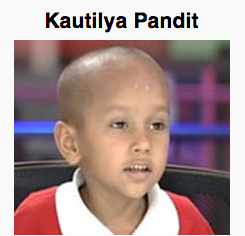 Unbelievable but true – real Super Kid
Under 6-year-old human Encyclopedia 'Kautilya'