DO NOT FEEL JEALOUS THOUGH
General Haji Sir Hassanal Bolkiah Mu'izzaddin Waddaulah is the head of a US$140 billion empire
His official residence is the Istana Nurul Iman, with 1,888 rooms, 290 bathrooms, and a floor area of 2,152,782 sq ft (200,000 m²), undisputedly the world's second largest palace after Beijing's Forbidden City (720,000 m²).
Under Brunei's constitution, The Sultan is the head of state with full executive authority, including emergency powers since 1962. Later in 2006, the Sultan was reported to have changed Brunei's constitution to make himself infallible under Bruneian law.Bolkiah is also the Prime Minister as well as holding the portfolios of Minister of Defence and Finance.
As Minister of Defence he is also the Supreme Commander of the Royal Brunei Armed Forces; an Honorary General in the British and Indonesian armed forces and an Honorary Admiral of the Fleet in the British Navy. He appointed himself as Inspector General of Police (IGP) of the Royal Brunei Police Force.
He addressed the United Nations General Assembly on Brunei Darussalam's admission to the United Nations in September, 1984. In 1991, he introduced a conservative ideology to Brunei called Melayu Islam Beraja (MIB) (or Malay Islamic Monarchy), which presents the monarchy as the defender of the faith. He has recently favoured Brunei government democratisation and declared himself Prime Minister and President. In 2004, the Legislative Council, which had been dissolved since 1962, was reopened.
His designated successor is his eldest son, Al-Muht
He Owns:983 Mercedes Benz
325 Ferrari
441 Bentley
267 BMW
205 Jaguars
222 Porsche
230 Rolls Royce
47 Lamborghini
Total = 1932
His wealth is increasing by 90 Euro each second
                                                                                                                                                                                                                    His Throne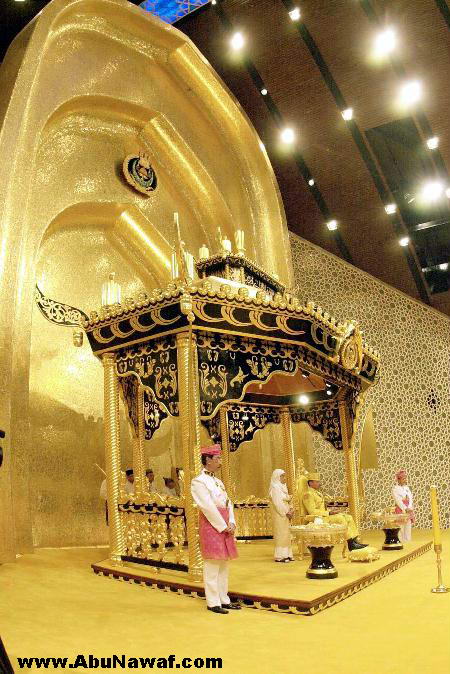 Views from inside his private aircraft