Thanks giving Parade in New York was displayed with pomp and show. This tradition was commenced by Macy's 87 years earlier.
This year 16 large and more than 40 small balloons were flown on the streets show. Between 30 to 60 (each) people were pulling the strings of the balloons. Over 3.5 million people were witnessing the parade visually. For Americans the purpose of the parade as ever was to celebrate and get familiar with the heritage of the Nation giving thanks to the Almighty for His bounties showered on them.
On Thursday the 28th November 2013 one could see balloons of  Spiderman, Snoopy, Donald McDonald, Kitty, Uncle Sam, Wimpy Kid and the like. The parade started from 77th Street and ended at Herald Square. Millions of people witnessed the parade with estimated live TV audience of 50million. Spiderman, Papa Smurf, Buzz Lightyear, Snoopy, Sonic the Hedgehog and Sponge Bob Square Pants were among the most notable floats at the 2013 Macy's Thanksgiving Day Parade in Manhattan, New York City.
The wind speed was around 25KMPH and it was not certain till the end if the balloons would be floated or not. The Officials had warned that may be the balloons (floats) may be aborted if the winds were over 55 KMPH.
Of the other interesting participants was a ride on the back of a turtle by fashion guru Richard Simmons. In 1997, strong winds forced the Cat in the Hat balloon into a pole on the Upper West Side, knocking it over onto the crowd below and injuring several parade-watchers.
A Native American performance group marches down 6th Avenue during the 87th Annual Macy's Thanksgiving Day Parade,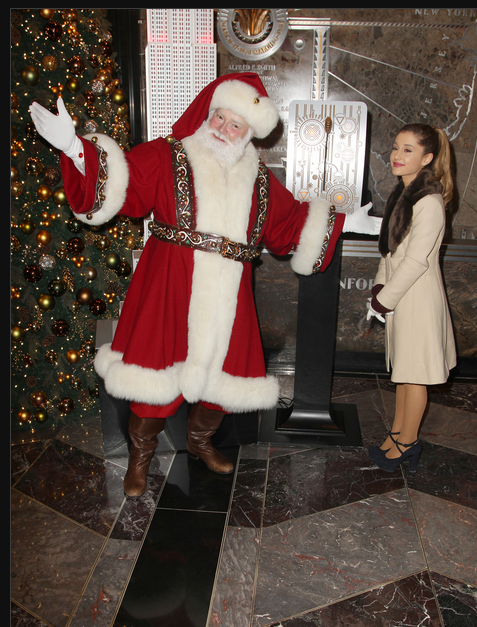 Santa Claus and singer Ariana Grande are seen at the Empire State Building Lighting where they officially kick-off Macy's Thanksgiving Day Parade week on Monday Nov. 25, 2013, in New York.
Additionally, live music shows and other performances were there. Colleges and schools bands participate with much interest. The TV channels show live musicals. The National Cheerleaders Association puts up show chosen from all over the US. The parade ends with the arrival of Santa Claus to ring in the Christmas and the holiday season. 
 Source: Wikipedia,  Huff Post / AP