After the war in 1812 between America and Britain, the United States lost a lot by constructing a fort known as " Fort Blunder".
The US had to loose a lot due to weakened strength of the armed forces. The US was not in a position to face the onslaught of other offensive. So a decision was taken to build a strong fort on the border of US /Canada on New York's lake Champion. This fort was named in memory of famous General Richard Montgomery.
The Engineers started the construction work in 1816. An octagonal fort with 30 feet strong stone high walls on the periphery was to be constructed. A sum of about dollars 265000 were spent. In 1818 the President Madison was troubled as it was learnt that the fort was constructed within  the border of Canada. The work half done had to be stopped and orders were given to vacate the built up area. This was a big human error – so the fort although named Fort Montgomery became famous and known as Fort Blunder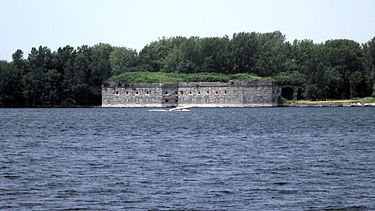 In 1844, on clarification the Fort came to with in the US territory. The construction was resumed,  already most of the stones and building materials were pilfered by locals. The work was never completed and the government had the Fort auctioned at a later date.
Idea : Guard Statues Installed To Protect  Home  
Who needs the real security if the dummy guards can do the job. A person living in Detroit has not left any chance for lack of surveillance. He says without identifying himself, he claims that it is job to ensure safety of his home. He has installed many systems of security in his premises. To name a few Sensor lights, bars on the windows, screens for each doors, two dogs, not only out side his house he has put two guards statues of human size  on either side of the main entrance. He claims that thieves will keep away when they see these dummies protecting his house. These puppet have attracted the police and neighbor. the police says he can not fool the gangsters for too many days.

 Kangaroo and Wombat:
This duo called Peggy the Wombat and Anzac the Kangaroo became a sensation for their friendship in Victoria, Australia. Both were orphaned soon after their birth. They were kept in a rescue center and made friends. This is first time these different species became friends. Both are vegetarians, and unlikely to harm each other when they grow up.