A Chinese artist named Zeng Chun Hui did the incredible work of carving out a wooden art work from a dried trunk of a tree. The artwork is about daily routine life of a city Kaifeng 900 years earlier. 
His work has been acknowledged by Guineas book of record for the longest wooden carving for depicting intricate and a solo work.  The dimensions of the piece are 12.286 M by 3.075 by 2.401 Meters.  Nobody had done such a detailed work so far.  In this carving one can see boats, a bridge, buildings, bazars, people doing their different daily chores, trees and houses. There are 550 persons engraved doing their daily chores. Nothing is shown from the modern day to day life.
The carving was placed in the Chinese capital's in Beizing  " Palace Museum"  for the public view. The master piece has been done in four years. This famous Chinese wood carver chopped down a single tree and tirelessly worked to make this piece. – See more at: http://truthseekerdaily.com/2013/11/what-a-man-did-with-this-tree-trunk-will-blow-your-mind-this-is-what-four-years-of-hard-work-looks-like/#sthash.TI4guck9.dpuf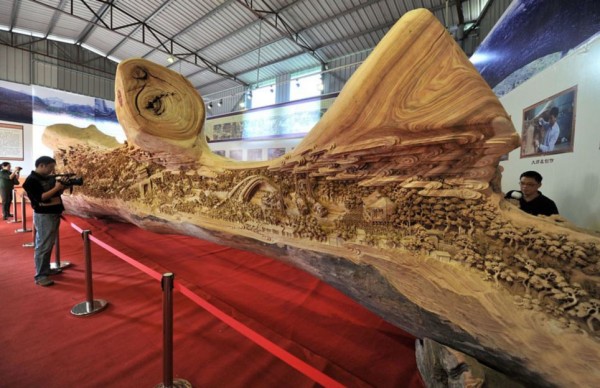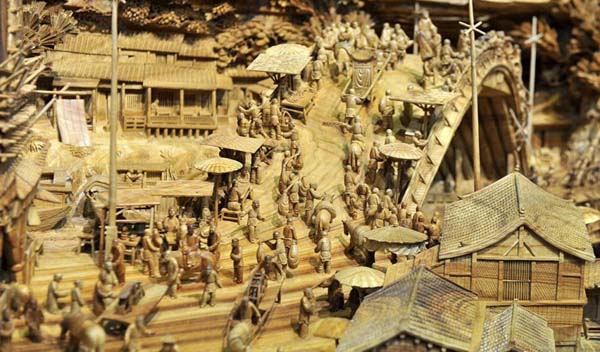 This is a replica of a painting over a thousand year old –  but is a wooden art work. The artist toiled for over four years. Ancient China has been shown in this detailed work to perfection and make you wonder if all this is real. People all over the world are paying awed attention for this incredible work of minuscule details.You are welcome to share this work with others.
The ECO friendly people will come out with all the nonsense of polluting and destroying a tree or the nature.  Well, we need to be discreet and decide the limits. That way you are polluting the world continuously – you may have to live naked like animals do – you will have to give up all that is not grown above or below the earth – which is not feasible. Let us celebrate for this good and the pleasing work.