Would you like a free ride by Moscow Metro just by sweating ? Here is a innovation and an example by the Olympics committee ! Winter Olympics are a good three months away.
To popularize the games and maintaining physical fitness the Russian Olympic Committee has arranged at Vystavochaya Station( West of Moscow) a special squat sensor. One has to complete 30 squats with in two minutes to get a free 30 Rubles (91 cent ticket on the Metro. The idea is popular with locals and you see others cheering the squatters. No accounts have been kept but the interest is strong enthusiastic.  As per the committee the idea is to bring sports to people. They just want to drive home a point to populace that Sports is not something people watch on TV every two years but they are also about involving all in the sporting way of life.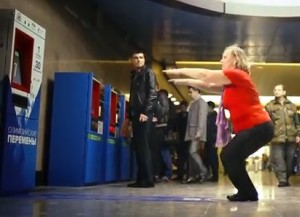 Rare Jewelry:
Jewelers sometimes never part with their coveted jewelry.  The photo displays such an item made in mogul style. It has nine Gems of the same size which are rare. Pratik Kothari of Kothari Gems, Jaipur, India owns this necklace set. All the nine gems Hessonite, Coral, Pearl, diamond, ruby, blue sapphire,  yellow sapphire and Cat's eye have been carved out and also with diamond pulque designed to enhance the beauty. These gems are real without any file underneath.
The eldest lady of the family wears on the night of festival of Lights called Diwali. The women folk in the clan are excited to have a look at the necklace when donned. The necklace set is seventy years old and reminds the family of their Grand Father and the Grand Mother. This is the reason that the necklace is not available for sale. The owner can't ever think of ever selling it. He would be presenting to his daughter as a wedding gift.