August Landmesser in 1931, hoping it would help him get a job, joined the Nazi Party. In 1935, he was engaged to Irma Eckler (a Jewish woman). It was daring that August Landmesser (born May 24, 1910); loved and married refused to perform the Nazi salute at the launch of the naval training vessel Horst Wessel on 13 June 1936.
He was a worker at the Blohm + Voss shipyard in Hamburg, Germany. He is best known for his appearance in the photograph taken then. He had to suffer humiliations for marring the Jewish woman named Irma Eckler in 1935.They had applied to be married in 1935 in Hamburg but were refused due to Nuremberg Laws that was promulgated. The discrimination against the Jews was so strong in Hitlers days that the couple had to suffer, so much so that their daughters born were also penalized.
Their attempt to flee from Germany into Denmark was foiled and were apprehended. He was charged with the charge of dishonoring the German race. Eckler was pregnant again in 1937. He put forward the argument that they did not know of Eckler being a pure Jew and was acquitted on 27 May 1938 with a warning that he would be charged and sent to multi-year prison sentence if they did not separate. He  kept his relation publicly. For this he was rearrested on 15 July 1938 and sentenced to two years in the concentration camp Börgermoor.
Eckler was arrested by the German secret police Gestapo and was transferred from prison to prison and finally to Fuhlsbüttel where she gave birth to a second daughter Irene.
Their children were initially taken to the city orphanage. Ingrid was later allowed to live with her maternal grandmother. Irene went to the home of foster parents in 1941. After her grandmother's death in 1953, Ingrid was also placed with foster parents. A few letters came from Irma Eckler until January 1942. It is believed that she was brought to the so-called Bernburg Euthanasia Centre in February 1942, where she was among the 14,000 killed; in the course of post-war documentation, in 1949 she was pronounced legally dead, with a date of 28 April 1942.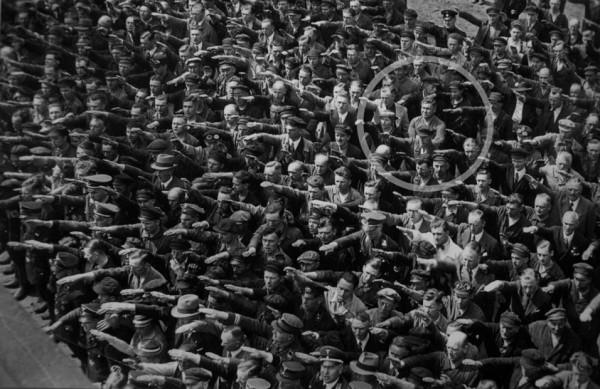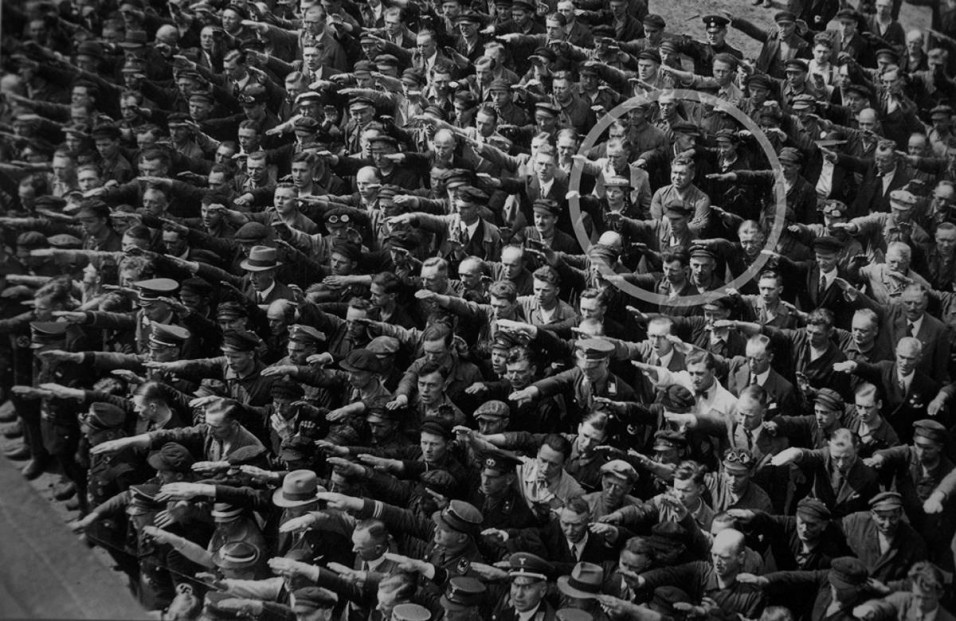 A man believed to be August Landmesser with both hands folded is seen not raising his for the Nazi Salute