How would you feel if you see a dancing cop controlling the flow of traffic whether going up or down  in the noisy squares of the city? Tony Lepore, the Dancing Cop, is still making moves and dancing in traffic at 64 years young.
He came into limelight for the unique style of dancing while controlling the traffic. While being interviewed Tony Lepore, said this was his passion which he developed over the years. He controls the traffic in a different way. He dances in Spanish style of salsa and disco. He became very famous through the internet and has been working since 1984 and enjoys his job thoroughly.  He has been doing it for 27 years.
The Mayor of the city invites him every year for holidays. He says many people begin their Christmas shopping after watching him dance. He showed his best moves from afternoon till midnight on the Christmas eve. He himself and the citizen are were excited to go through this event.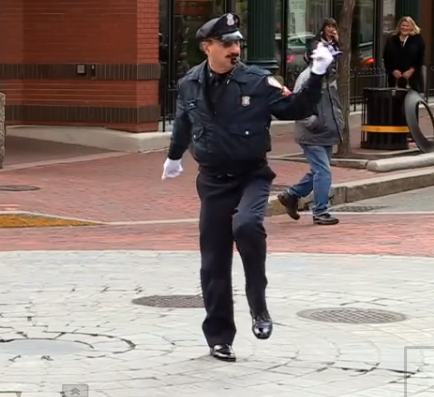 Here below: That's a ducky –  he squats backwards with his hands touching alternately the ground and whistling rhythmically, that's the music. The comments of the spectators are like " Oh he dances like Michel Johnson". " He is an icon for the city".
The kids and folks are thrilled to see him dancing while directing the flow of vehicles and pedestrians. The passing crowd express their joy and pay tributes for his gracious moves. His passion to entertain people while controlling the traffic is something people love. He is so full of energy and with his rhythmic movements has won over the hearts of citizens.
Here below you will see him doing his job at traffic island at an intersection of Dorrance street.