Alabama kicker Cade Foster had missed 2 field goals and a third blocked –  was blamed for the match on 30th November last while playing for Iron ball against Auburn. The defeat was directly attributed to him. However,  43rd  US President  George W Bush on Dec 3, 2013 wrote to him in his own handwriting:  it began, "Dear Cade (#43), life has its setbacks, however you will be stronger with time you will grow with time. I wish you all the best. It was signed :  "Sincerely — another 43". 43 refers to Bush being the 43rd President of the United States.
See the message below. Foster had the message framed and posted it on his Instagram  page and sent the Twit.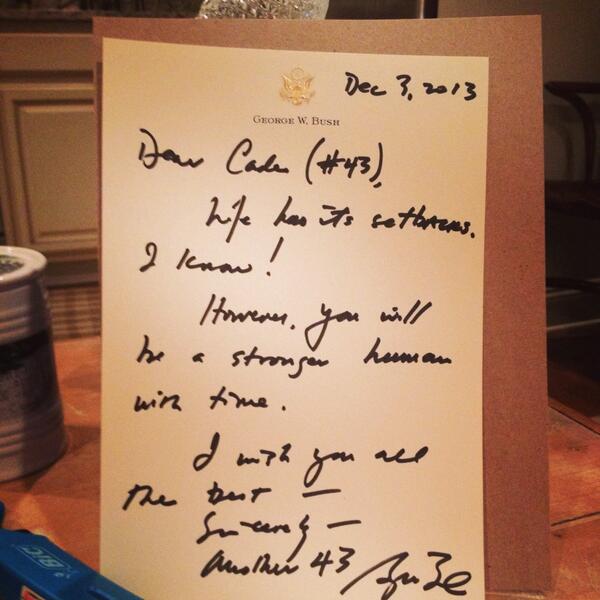 The public had sent him and his family threatening messages. These happenings were all over in the media. They did not deter him as his team mates and many from social media were supporting him. As a coincidence it may be mentioned that Cade Foster and President Bush wore the jersey numbered 43. After his posting on the net – this incident is all over in the media.
The letter from the President meant a lot to him that he shared it all through the net."Hold your head high."
Alabama quarterback AJ McCarron had spoken to Cade to be steady and not loose his calm. McCarron  said that Cade was great to follow, the team mates have confidence in him and that he is welcome to make kicks. And that Football is a game and not the life and one has to believe that there will another day tomorrow.