Emily James aged 3, made the world realize that human qualities can be manifested in a three year old kid as well.
She is a living example for meaningful sacrifice. She had her seven inches long hair cut and donated them to the Canadian Cancer Society for kids infected with cancer. Her parents have a film production house, videoed her sacrifice and posted a documentary film on the net. The clip is a hit and gone viral. Just in 8 days it has been viewed for over 476,000 times.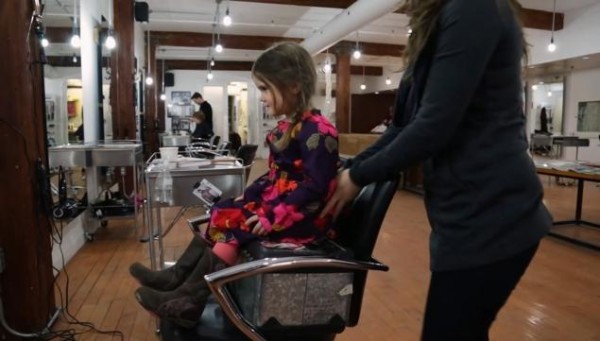 source: FLYPRESS FILMS / VIA VIMEO
Emily James has a message saying,"I don't want any kids to be sad that they have no hair," In the touching video clip she adds "What I want to do is give them my hair."She added that, that was what she could do. Her mother Amy James says that since cancer infected loose all their hair, we should donate hair whenever possible.
Her doll Rapunzel was given a cute haircut to keep Emily interested and follow. Hair cut was arranged in the studio Brenen Demelo in Tronto with Uncle Mathew Collins. Emily James mumbled that she could not wait for her turn. Her spirit to give was so genuine and something which has inspired thousands of people. It was so meaning full and quite a lesson to all to give and share what is in abundance with any body. The children can learn through this elating experience to learn for selfless service in their life, even if it costs. It is so good to bring hope to needy is a very noble deed.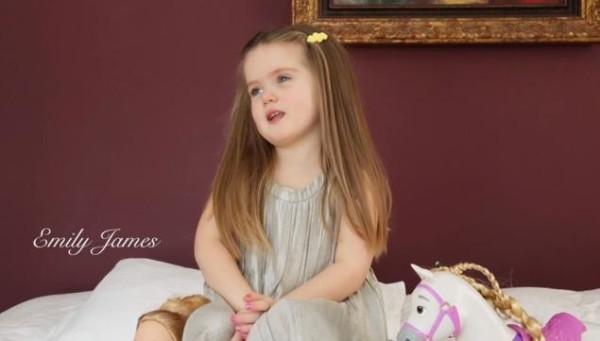 source: FLYPRESS FILMS/VIA VIMEO