Google always has been giving its employees the best of facilities. Now it will operate its own Airport.
Google has contract with the Moffett Federal Airfield through its real estate subsidiary company Planetary Ventures L.L.C. It has won a contract to lease the historic Hangar One at Moffett. This Air base was established 1n 1930, spread in an area of 1000 acres. NASA Ames Research Center was operating this air base for the last 23 years.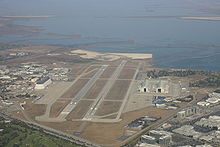 Moffett Fedral Airport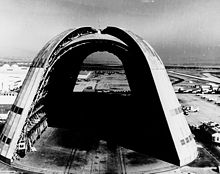 Hanger One
Photo Source: Wikipedia.
 The best thing is that air base is just six kilometers from Google's headquarters. The executives of the Google having own jets are allowed to use this airport. Google has made deal with General Service Administration and NASA for the airport's use and will renew three hangers and also upgrade one Golf course nearby.
To renew one hanger, it will cost Google $ 42 million. Hanger one has been known as the oldest technological symbol of Silken Valley. Company executives co-founder Larry Page, Sergey Brin and Eric Schmidt own One Bowing 767-2000, seven jets and two helicopters to use them here.The airfield will be used to park business owned Boeing along with other jets and will pay $1.3 million yearly. Additionally, NASA has installed equipment to run tests aboard these airplanes.
The airfield has two run active runways with the following the specifications.
Surface:1st) Concrete Runway 14L/32R: 9,202 x 200 ft. (2,805 x 61 m), 2nd) Surface:Asphalt Runway 14R/32L: 8,127 x 200 ft. (2,477 x 61 m)
There are branch campuses of four Universities for research purposes with the NASA in this prominent area.