It is a story concerning the power of music. Here, one can follow a real story, which is outstanding and inspirational for all, especially for kids (ragpickers) of slums, to get out of poverty and achieve noteworthy values in life. In this true-life story of poor kids who learn to play musical instruments made entirely out of garbage. Their saga highlights two vital issues of present times: poverty and waste pollution due to mankind. A movement has commenced with the sole aim to teach kids and their parents to learn how to fish rather than asking for the fish.
Every day about 1500 tons of garbage is disposed of in the county Catreura, near Asuncion, Paraguay.
The garbage pickers spend a whole day picking up articles that can be sold and recycled. It is their job cum livelihood to get the bread and butter by doing this work. One day music teacher Fabio Chavez found things that took him by surprise. From the garbage pick up he could make musical instruments and later on he thought he could teach the growing up doing this sorting of waste.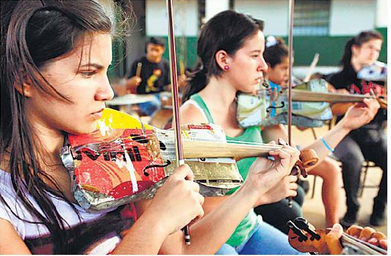 He taught them how to play musical instruments right from zero level, and lo there was the birth of "Recycled Orchestra". Here was an opportunity for to get kids rid of violence, drugs, child labour and situations where they would never learn good values of and virtues of life.
Director Graham made a documentary titled ' Landfill Harmonic'. This orchestra became very popular in many countries.
On his Facebook page, he announced a movie named 'Landfill Harmonic'. He wrote that the world gave them garbage, and we return them music. There are 2,44 000 likes. So on uTube they have been viewed for 2400000.
Unless this opportunity for the poor, is grabbed, they would remain ragpickers and keep leading a life of drudgery.
https://www.youtube.com/watch?v=sJxxdQox7n0