Manpower is an important constituent  of every industrial unit or a trading house. For it to grow  a team of dedicated workers are required. Every workers needs sufficient pay to meet his need of maintenance,
In order that workers remain constantly motivated and to Improve performance there should also be incentive so that he has more to give(work) & take( funds)
It is desirable to draw a road map, with a little flexibility, for growth of every worker. No out of turn jumps should be allowed – only in exceptional case. There needs to be a clear understanding that the [profit is legitimate right of the employer by virtue of his contributing enterprise to the organisation.
While  deciding on rewards for good performance, it is always advisable to avoid creating a long term liability  i.e. instead if a high raise in salary, one-time lump sum reward may be granted in recognition for outstanding performance in a particular year.This would spur his efficiency and motivate him to improve performance year on year steadily.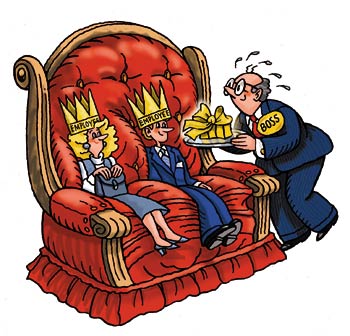 It is important to bear in mind that benefits other than monetary ones also matter. A workeris a human being with feelings and sentiments. The salary can be supplemented with genuine appreciation , a word of praise or a pat on the back.  Sometimes rewards given in a form other than cash, e.g. a trophy or a symbolic gift, lead to greater satisfaction. Such rewards carry a feature of permanency and the receiver feels delighted as many times as he happens to look at them.Lastly rewards should be given to every deserving worker. Silent hard work should not be allowed to go unrewarded.
A well designed salaty structure that ensures proper and fair compensation to workers goes a long way in raising satisfaction  level  and loyalty amongst workers and creating a congenial working atmosphere to the benefit of both workers  & the organisation.